Levels and patterns of objectively-measured physical activity volume and intensity distribution in UK adolescents: the ROOTS study
International Journal of Behavioral Nutrition and Physical Activity
2014
11:23
Received: 3 September 2013
Accepted: 17 February 2014
Published: 24 February 2014
Abstract
Background
Few studies have quantified levels of habitual physical activity across the entire intensity range. We aimed to describe variability in total and intensity-specific physical activity levels in UK adolescents across gender, socio-demographic, temporal and body composition strata.
Methods
Physical activity energy expenditure and minutes per day (min/d) spent sedentary and in light, moderate, and vigorous intensity physical activity were assessed in 825 adolescents from the ROOTS study (43.5% boys; mean age 15.0 ± 0.30 years), by 4 days of individually calibrated combined heart rate and movement sensing. Measurement days were classified as weekday or weekend and according to the three school terms: summer (April-July), autumn (September-December), and spring (January-March). Gender and age were self-reported and area-level SES determined by postcode data. Body composition was measured by anthropometry and bio-electrical impedance. Variability in physical activity and sedentary time was analysed by linear multilevel modelling, and logistic multilevel regression was used to determine factors associated with physical inactivity (<60 min moderate-to-vigorous intensity physical activity/d).
Results
During awake hours (15.8 ± 0.9 hrs/d), adolescents primarily engaged in light intensity physical activity (517 min/d) and sedentary time (364 min/d). Boys were consistently more physically active and less sedentary than girls, but gender differences were smaller at weekends, as activity levels in boys dropped more markedly when transitioning from weekday to weekend. Boys were more sedentary on both weekend days compared to during the week, whereas girls were more sedentary on Sunday but less sedentary on Saturday. In both genders light intensity physical activity was lower in spring, while moderate physical activity was lower in autumn and spring terms, compared to the summer term; sedentary time was also higher in spring than summer term. Adolescents with higher fatness engaged in less vigorous intensity physical activity. Factors associated with increased odds of physical inactivity were female gender, both weekend days in boys, and specifically Sunday in girls.
Conclusions
Physical activity components vary by gender, temporal factors and body composition in UK adolescents. The available data indicate that in adolescence, girls should be the primary targets of interventions designed to increase physical activity levels.
Keywords
Energy expenditurePhysical activity intensitySedentary timeActivity monitoringAdolescents
Introduction
Moderate-to-vigorous intensity physical activity (MVPA) has consistently been associated with numerous physiological and psychological health benefits in children and adolescents [1–3]. It is therefore recommended by UK government [4] and other agencies [5, 6] that youth participate in a minimum 60 minutes of MVPA per day (min MVPA/d) for maintenance of general health. Traditionally, the foremost objective of studies reporting on levels and patterns of physical activity performed by adolescents has been to determine the amount of coherence between recommended and actual MVPA levels [7–11]. Many studies have also investigated the correlates of MVPA, which include gender, parental education, and a host of psychological, social and cultural factors [12]. Knowledge of this type is important as it can be used to increase MVPA participation by aiding the design of effective interventions tailored to specific groups. However, recent evidence has indicated that physical activity performed at other intensities (e.g., light and vigorous) may exhibit unique associations with health, and thus measurement and investigation of MVPA alone may now be considered inadequate [13].
The health-related outcomes of light intensity physical activity are of increasing research interest [14], and at the same time the concept that vigorous intensity physical activity may confer additional health benefits beyond physical activity of moderate intensity is gathering support [15]. As a direct consequence of the latter, guidelines now explicitly recommend vigorous intensity physical activity on at least three days per week, but no overall activity volume is specified for the vigorous component, perhaps partly due to insufficient data [4–6]. Whilst there has been increasing research and policy emphasis on the health benefits of activity intensities other than MVPA, few studies have utilised objective monitoring tools in adolescents to describe the levels and correlates of habitual physical activity participation throughout the entire range of activity intensities [16–19].
Occupying the lowest end of the intensity spectrum, sedentary behaviour is defined as any waking behaviour in a sitting or reclining posture with an energy expenditure <1.5 times the resting metabolic rate [20]. It is thought to be associated with components of the metabolic syndrome (particularly higher body fatness), lower fitness, and lower self-esteem in school-aged children and youth [21]. Like the evidence-base for vigorous activity, however, the relatively premature nature of this research area has not yet permitted specific recommendations to be made regarding overall sedentary time, other than in the broadest sense of limiting daily sedentary behaviour [4]. Whilst increasing numbers of studies have described total sedentary time in adolescents [7–9, 16, 18, 19, 22–24], more are needed to examine the correlates and determinants of this highly prevalent behaviour [12].
This study was conducted to describe gender-specific levels of total habitual physical activity energy expenditure (PAEE), the time spent in different physical activity intensities (light, moderate and vigorous) and sedentary time in a sample of healthy UK adolescents. We further investigated socio-demographic and physical correlates of physical activity and sedentary behaviour, as well as the temporal patterns of these behaviours.
Methods
Physical activity assessment
The ROOTS study is a longitudinal investigation of risk factors for adolescent psychopathology that is described in detail elsewhere [25]. At wave 0, 1238 adolescents were recruited from 18 schools in the East of England, of which 1203 students (aged 14.5 ± 0.28 years) attended for testing. About six months after wave 0 measurements, 930 participants (75% of the original cohort; 15.0 ± 0.31 years) accepted an invitation to undergo monitoring of habitual physical activity at wave 1. All procedures were explained prior to their conduct and participants could choose to decline any part of the study. The ROOTS study was approved by the Cambridge research ethics committee.
Wave 1 entailed fitting participants with a combined heart rate and movement sensor (Actiheart, CamNtech Ltd, Papworth, UK), a small waterproof device that can be worn continuously during free-living to provide estimates of activity intensity in youth [26, 27]. This was attached to the participant's chest by two ECG electrodes, one placed medially at the base of the sternum and the other horizontally to the left side without the adjoining wire being too taught [28].
A graded 8-min sub-maximal step-test (150 mm high step) was conducted to individually calibrate heart rate to protocol-estimated physiological intensity for the free-living activity assessment [29]. Upon conclusion of the step-test the combined sensor was initialised to record data in 30 second epochs and participants were requested to wear the monitor continuously for 4 consecutive days. To incorporate week and weekend days, monitors were typically fitted on a Friday and retrieved early the following week. Subsequently, heart rate data were cleaned [30] and individually calibrated with parameters from the step test, and combined with trunk acceleration [29] to derive an estimated activity intensity (J/min/kg) time-series via branched equation modelling [31]. Step-test data were considered valid if at least 4-min of the protocol were completed. For participants without a valid step test but with valid free-living data (n = 65), a group calibration equation was derived on the basis of all valid step tests in the sample, representing the average calibration curve for a given age, gender and sleeping heart rate level. Average daily PAEE (kJ/kg/day) was subsequently derived by integration of the intensity time-series with respect to time (area under the curve). Non-wear segments were inferred from the combination of prolonged periods of zero acceleration accompanied by non-physiological heart rate data, and data were adjusted to minimise potential diurnal bias during summarisation. The time distribution of activity intensity was described by summarising the intensity time-series in standard metabolic equivalents (METs), within 18 narrowly defined intensity categories. For tabulation purposes these categories were later collapsed into broader intensity categories as sedentary (≤1.5 METs), light intensity physical activity (1.5 to 4 METs), moderate intensity physical activity (4 to 7 METs), and vigorous intensity physical activity (>7 METs). These broader MET thresholds have been commonly applied when investigating physical activity in children and youth [15].
Protocols that involve continuous wear periods are advantageous as they limit missing data. However, they are susceptible to misclassification of awake sedentary time and sleep, which are difficult to distinguish from one another solely on the basis of heart rate and trunk acceleration data. In this study, adolescents were asked to report the times that they usually went to bed and got up on week and weekend days. This information was overlaid on the combined heart rate and movement time-series plot to provide an initial classification of data into asleep/awake blocks. All time-series plots were visually inspected and when necessary these blocks were adjusted to coincide with features within the objective data (Figure
1
). This approach of fusing objective and subjective data has been shown to improve classification accuracy of sleep detection [
32
].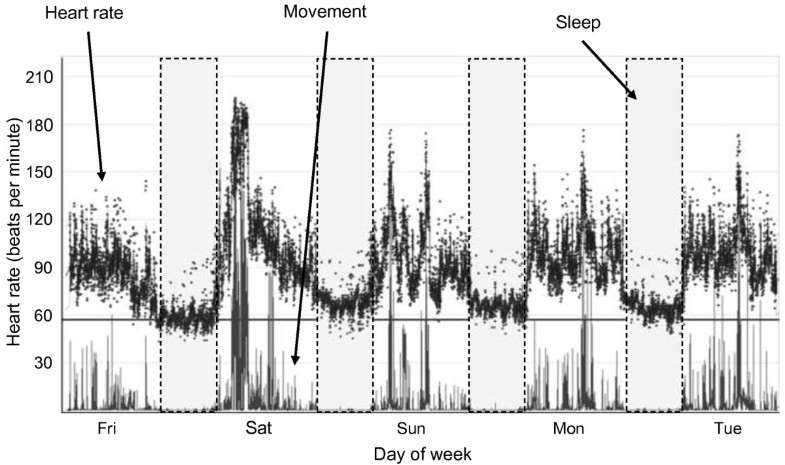 Individuals were included in the present study if they contributed at least one day of valid activity data, and person-days were used for the main analysis to enable comparisons of physical activity patterns across week and weekends day. A valid day was defined as ≥16 hours of observation time, with these hours being roughly equally distributed between the morning (3 am-9 am), noon (9 am-3 pm), afternoon (3 pm-9 pm), and midnight (9 pm-3 am) parts of the day (i.e. ≥4 hours in each of these quadrants of the day). These criteria resemble the precedent that 70% of a whole day when implementing continuous wear protocols is necessary for valid person-day level activity data [22, 33].
Other data collection
The real-time stamps of the combined sensor records were used to categorise days as either weekday (Monday-Friday) or weekend (Saturday and Sunday) and according to the three school terms: summer (April-July), autumn (September-December), and spring (January-March).
A demographic questionnaire was used to collect information regarding participant gender, date of birth, ethnicity (White, other) and postcode. The latter was used to generate an area-level SES variable according to the 'A classification of residential neighbourhoods' (ACORN) index [34]. This index classifies UK addresses into one of five main SES groups: hard-pressed, moderate means, comfortably off, urban prosperity, or wealthy achievers. The two lowest categories (hard-pressed and moderate-means) were combined as were the two highest categories (urban prosperity and wealthy achievers) to create a trichotomous low, middle and high area-level SES variable.
Menarcheal status was self-reported upon enrolment to the ROOTS study and post-menarcheal girls were defined as pubertal. Girls yet to experience menarche were classified according to self-reported breast and pubic hair development using the Tanner image assessment method [35]; girls with breast or pubic hair stages ≥3 were categorised as pubertal. Likewise, boys self-reporting stages ≥4 on pubic hair coverage and genital development were defined as pubertal, whereas boys with stages ≤2 on both measures were classified as pre-pubertal. Remaining boys were categorised according to salivary testosterone concentrations (>25th percentile level from the pubertal group corresponded to pubertal).
Height (cm) and weight (kg) were measured by standard anthropometric procedures and the body mass index was calculated (BMI, kg/m2). Body composition and body tissue impedance were also estimated using the Tanita TBF-300 MA bioelectrical impedance analyser. Estimates of body fatness were subsequently calculated by using a number of child-specific prediction algorithms based on height and weight [36–38], BMI [39–41], or impedance data [42]. All permutations were pooled to yield an aggregated measure of fat mass (kg), which was subsequently converted to fat mass index (kg/m2) by division of stature squared [43, 44]. Age- and gender-specific fat mass index cutoffs were generated with ≥85th percentile used to denote overfat adolescents (<15.0 years: boys ≥4.49 kg/m2, girls ≥7.48 kg/m2; >15.0 years: boys ≥4.86 kg/m2, girls ≥7.98 kg/m2). Fat mass index was preferred to percentage body fat for derivation of body fat status as per the most recent UK paediatric reference data [45].
Statistical analysis
Sample characteristics were computed for the whole sample and stratified by gender. Gender differences were assessed using independent sample t-tests, Wilcoxon-Mann–Whitney tests, and Chi-square tests for normally distributed, skewed, and categorical data, respectively. The same tests were used to compare participants included versus those excluded from the study due to missing data.
Gender differences in continuous MET-intensity distributions were examined using a multivariate test of means. To investigate crude levels of total physical activity, the time spent in the broader activity intensity categories and sedentary time (in addition to correlations between variables), daily data were collapsed to the average-daily level and unadjusted mean summary estimates were calculated by standard linear regression, accounting for school-level clustering. Daily-level data were retained for the main analyses.
To explore associations between socio-demographic, temporal and body composition factors with physical activity and sedentary time, linear multilevel modelling techniques were used (one model for each dependent variable). All potential correlates (gender, type of day, school term, area-level SES, body fat status) were included simultaneously in models to achieve mutual adjustment. Age was also included in models as a control variable, but ethnicity and pubertal status were not included due to low variation within the sample (>90% White; >90% pubertal at wave 0) and some missing data. Interaction terms between gender and all other potential correlates (gender*correlate) were added to models but were only retained if Wald tests proved significant (in addition to likelihood ratio tests for variables with >2 levels). All results are presented as adjusted means and confidence intervals. Prior to multilevel analyses moderate and vigorous intensity physical activity were both natural log-transformed to approximate normal distributions. Their data have been exponentiated back to the original scale for interpretation purposes. To determine factors related to the odds of being inactive (<60 min MVPA/d), a logistic multilevel model was constructed using an analogous approach to linear models. In all multilevel models (linear and logistic), intercepts were allowed to vary randomly between participants to account for clustering of data at the participant level by virtue of repeated days of physical activity measurement. A second level to account for school-level clustering was also included. A significance level of p < 0.05 was chosen a priori and all analyses were performed with Stata 13.0 software (StataCorp, College Station, TX).
Results
Participants contributed a total of 2381 valid person-days of physical activity data (mean 2.9, range 1–5 days), composed of 1256 weekdays (Wednesdays and Thursdays were underrepresented, <100 person-days each), 559 Saturdays and 566 Sundays. Participants were generally compliant with the continuous monitoring protocol; on average valid days included 23.8 hours of data with ≥5.8 hours disseminated within each of the quadrants of the day (morning, noon, afternoon, and night). Each of the school terms were represented with 648 (27.2%) spring, 1157 (48.6%) summer, and 576 (24.2%) autumn person-days, respectively.
Conclusions
Boys are more physically active than girls at all intensities above a sedentary level and both genders predominantly engage in light intensity physical activity. The emerging concept of investigating the health effects of light intensity physical activity is therefore warranted. PAEE, physical activity intensity and sedentary time differ according to time-related factors including type of day (week or weekend) and school term, and according to area-level SES and body fatness, but the overwhelming factor that is associated with physical inactivity (<60 min MVPA/d) is female gender. If UK guidelines are sufficient for maintaining normal growth, development and health in childhood, adolescent girls should be the primary recipients of interventions that are designed to increase physical activity levels.
Consent
Written informed consent was obtained from the participant and the participant's guardian/parent/next of kin for the publication of this report.
Abbreviations
MVPA:

Moderate-to-vigorous intensity physical activity
PAEE:

Physical activity energy expenditure
SES:

Socio-economic status.
Declarations
Acknowledgements
We thank all ROOTS participants for their time and dedication to the study. Diane Bamber (Dept of Psychiatry) and Rebekah Steele (MRC Epidemiology Unit) are acknowledged for their assistance in organising the physical activity component of the ROOTS study. Stefanie Mayle (MRC Epidemiology Unit) is acknowledged for assistance in activity data processing and Stephen Sharp (MRC Epidemiology Unit) is acknowledged for providing statistical advice. This work was supported by the Medical Research Council [Unit Programme number MC_U106179476], the Wellcome Trust [grant 074296/Z/04/Z] and the British Heart Foundation [grant FS/12/58/29709 to KW].
Authors' Affiliations
(1)
MRC Epidemiology Unit, University of Cambridge, Cambridge, UK
(2)
Developmental Lifecourse Research Group, Department of Psychiatry, University of Cambridge, Cambridge, UK
(3)
Department of Sport Medicine, Norwegian School of Sports Science, Oslo, Norway
(4)
Physical Activity Programme, MRC Epidemiology Unit, Addenbrookes Hospital, University of Cambridge, Institute of Metabolic Science, Cambridge, UK
Copyright
© Collings et al.; licensee BioMed Central Ltd. 2014
This article is published under license to BioMed Central Ltd. This is an Open Access article distributed under the terms of the Creative Commons Attribution License (http://creativecommons.org/licenses/by/2.0), which permits unrestricted use, distribution, and reproduction in any medium, provided the original work is properly credited.