Improving diet, physical activity and other lifestyle behaviours using computer-tailored advice in general practice: a randomised controlled trial
International Journal of Behavioral Nutrition and Physical Activity
2012
9:108
Received: 9 December 2011
Accepted: 30 August 2012
Published: 11 September 2012
Abstract
Background
The adoption and maintenance of healthy behaviours is essential in the primary prevention of chronic non-communicable diseases. This study evaluated the effectiveness of a minimal intervention on multiple lifestyle factors such as diet, physical activity, smoking and alcohol, delivered through general practice, using computer-tailored feedback.
Methods
Adult patients visiting 21 general practitioners in Brisbane, Australia, were surveyed about ten health behaviours that are risk factors for chronic, non-communicable diseases. Those who completed the self-administered baseline questionnaire entered a randomised controlled trial, with the intervention group receiving computer-tailored printed advice, targeting those health behaviours for which respondents were not meeting current recommendations. The primary outcome was change in summary lifestyle score (Prudence Score) and individual health behaviours at three months. A repeated measures analysis compared change in these outcomes in intervention and control groups after adjusting for age and education.
Results
2306 patients were randomised into the trial. 1711 (76%) returned the follow-up questionnaire at 3 months. The Prudence Score (10 items) in the intervention group at baseline was 5.88, improving to 6.25 at 3 months (improvement = 0.37), compared with 5.84 to 5.96 (improvement = 0.12) in the control group (F = 13.3, p = 0.01). The intervention group showed improvement in meeting recommendations for all individual health behaviours compared with the control group. However, these differences were significant only for fish intake (OR 1.37, 95% CI 1.11-1.68), salt intake (OR 1.19, 95% CI 1.05-1.38), and type of spread used (OR 1.28, 95% CI 1.06-1.51).
Conclusion
A minimal intervention using computer-tailored feedback to address multiple lifestyle behaviours can facilitate change and improve unhealthy behaviours. Although individual behaviour changes were modest, when implemented on a large scale through general practice, this intervention appears to be an effective and practical tool for population-wide primary prevention.
Trial Registration
The Australian New Zealand Clinical Trials Registry: ACTRN12611001213932
Keywords
Health promotion
General practitioners
Intervention studies
Primary prevention
Diet
Physical activity
Health behaviours.
Introduction
Non-communicable diseases (NCDs) are, to varying degrees, associated with a limited set of modifiable health risk behaviours [1–5]. These behaviours are highly prevalent in developed countries; for example, 61% of the Australian population consumes more alcohol than recommended by current guidelines, 50% and 86% respectively fails to eat sufficient fruit and vegetables [6] and 50% is physically inactive [7] . These risk behaviours are not only highly prevalent but also occur in clusters; for example 99% of smokers had at least one additional risk such as unhealthy diet, high body mass index (BMI) or insufficient physical activity [8]. Clustering of unhealthy behaviours suggests the need for development and evaluation of interventions that target multiple health behaviours to achieve population health gains [8–10]. There are studies illustrating the limitations of self-regulatory capacity and the operating of concepts such as decision fatigue, indicating that it might be difficult for an individual to make multiple behavioural changes simultaneously [11]. However, multiple-behaviour change interventions are likely to have a greater impact on public health than single-behaviour interventions [4, 10, 12–14]. Only a limited number of such interventions have been evaluated to date, but generally show promising results [15, 16]. Furthermore, there is evidence to suggest that interventions targeting more than one behaviour can be effective even when implemented simultaneously across the different behaviours [17–21]. To benefit cost-effectiveness and reduce participant burden, simultaneous interventions are preferred over interventions that target multiple behaviours sequentially [22].
The general or family practice setting offers potential to facilitate multiple behaviour change on a large scale, as approximately 85% of the Australian population consult a general practitioner (GP) each year [6]. Moreover, a GP's advice is well accepted by patients [23] and reasonably effective in stimulating changes for certain habitual behaviours [24, 25]. However, GPs experience crowded agendas and health promotion is often overlooked when patients present for management of acute conditions. A recent Australian study showed that GPs usually assess smoking and alcohol patterns but only about one in four typically assess their patient's dietary and physical activity habits [26]. For interventions to be workable in general practice they must be easily accommodated within established practice routines and shown to have positive patient outcomes. A focus on multiple risk behaviours simultaneously offers a time-efficient approach. Computer-tailored health promotion interventions in this setting have shown promising results [27].
Interventions focused on diet and lifestyle that provide feedback tailored to an individual's needs have demonstrated better feasibility [28, 29] and effectiveness [27, 30–33] when compared with non-tailored messages. Tailored messages are more likely to be read, remembered, discussed with others and perceived as interesting due to the personal relevance of the advice [34, 35]. Computer-tailored feedback can be generated by an automated expert system, making it feasible to provide large number of respondents with personally adapted feedback about their present health behaviours [36].
Our previous work indicates that key aspects of diet and lifestyle can be reliably assessed by self-reported surveys [37]. There is growing evidence that multiple health behaviours can be summarised as a composite score and that higher scores are associated with lower morbidity and mortality [38–40]. A summary health score or a lifestyle score can be employed as a simple tool to communicate about the number of behaviours for which recommendations are met hence indicating the scope of change needed. However, little research has been published evaluating the use of such lifestyle score in achieving multiple health behaviour change in the general practice setting. Therefore, the aim of this study was to assess the effectiveness of a minimal intervention based around computer-tailored feedback derived from a summary health behaviour score of ten behaviours, within a representative general practice setting. It is hypothesised that the participants in the intervention group will significantly improve their health behaviours and increase their health score compared to the control group.
Results
Invitations and questionnaires were mailed to 8243 patients, after 38 were excluded by their treating GP. 4678 patients agreed to participate in the study by returning completed questionnaires, giving a baseline response of 56.5%, see Figure
1
. Health behaviour changes reported are only for participants in the sub-study to be reassessed at 3 months (n = 2306). A total of 76% (n = 1711) participants responded at three months. Twenty nine participants had excessive missing data and were excluded; hence the final sample consisted of 1683 participants. Participants had a mean age of 48.6 years (SD = 13.5), mean BMI in the overweight range (26.4 kg/m2; SD = 5.4) and were predominantly female (69.7%). There were no significant differences between groups at baseline in gender, health behaviours (See Table
1
), or mean Prudence score (5.88 versus 5.84,
P
 = 0.65).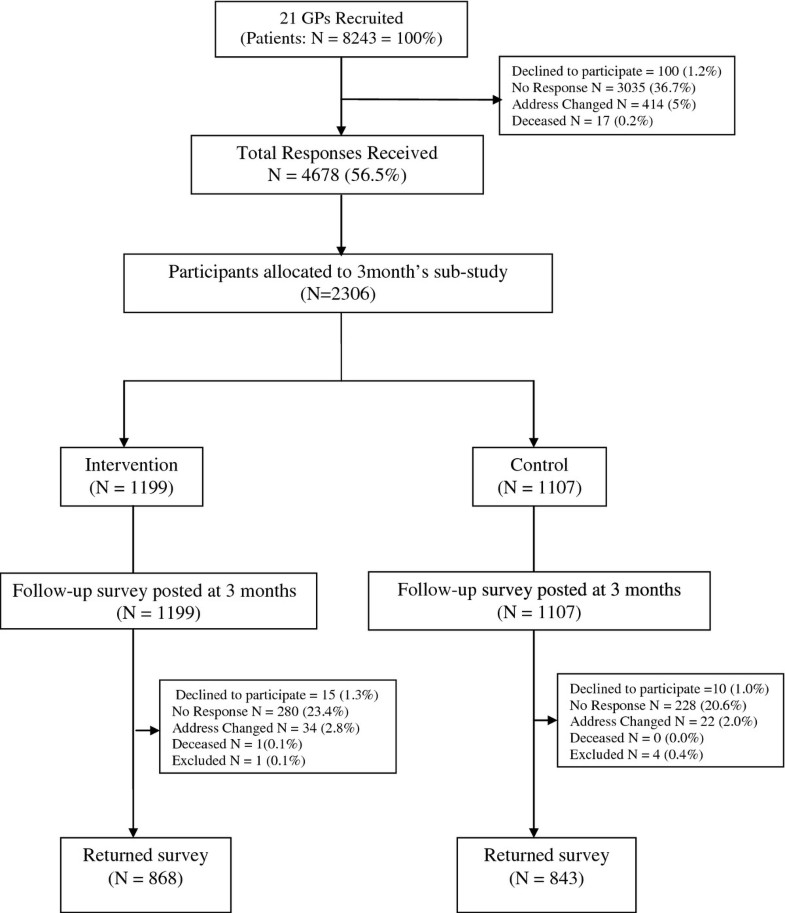 Individual health behaviours
There was an overall improvement in health behaviours in both intervention and control groups at three months (Table
2
). More improvement was noted in the intervention group compared to the control group, except for smoking prevalence (Table
2
). However, significant changes between groups were observed for only three behaviours: increased fish intake (
OR 1.37, CI 1.11-1.64)
, reduced salt intake
(OR 1.19, CI 1.05-1.38)
and using spreads other than butter
(OR 1.28 CI 1.06-1.51)
. The odds ratios for change in intervention group compared to the control group, adjusted for age and gender, are included in Table
2
. Participants in the intervention group were 40% more likely to increase their fish intake as compared to controls. Similarly, the intervention group were 20% and 30% respectively more likely to reduce salt intake and use of spreads other than butter. The number needed to treat (NNT) indicates, taking fish intake as an example, that for every 15 patients receiving the intervention one individual will adopt sufficient change to achieve guideline recommended fish intake. Apart from the minimal change seen in body weight and smoking, all other behaviours recorded NNT of between 15 and 58 (Table
2
).
Table 2
Net percentage change, odds of change and number needed to treat (NNT) for participants achieving guidelines recommendations (n = 1683)
| Health Behaviour | Group | Net change% | Odds Ratio for change | 95% CI | NNT# |
| --- | --- | --- | --- | --- | --- |
| Fish | Intervention | +7.06 | 1.37* | 1.11-1.64 | 15 |
| | Control | +0.84 | | | |
| Spread | Intervention | +5.06 | 1.28* | 1.06-1.51 | 21 |
| | Control | +0.37 | | | |
| Salt | Intervention | +5.43 | 1.19* | 1.05-1.38 | 24 |
| | Control | +1.23 | | | |
| Veg and fruit | Intervention | +3.14 | 1.24 | 0.91-1.68 | 37 |
| | Control | +0.49 | | | |
| Meat | Intervention | +7.17 | 1.16 | 0.93-1.44 | 38 |
| | Control | +4.48 | | | |
| Milk | Intervention | +4.62 | 1.11 | 0.96-1.29 | 45 |
| | Control | +1.80 | | | |
| Alcohol | Intervention | +3.88 | 1.16 | 0.96-1.37 | 45 |
| | Control | +1.12 | | | |
| Physical activity | Intervention | +0.48 | 1.06 | 0.86-1.30 | 58 |
| | Control | −1.34 | | | |
| Body weight | Intervention | −0.12 | 0.96 | 0.85-1.09 | 161 |
| | Control | −0.82 | | | |
| Smoking | Intervention | +0.24 | 0.97 | 0.86-1.12 | 1000 |
| | Control | +0.36 | | | |
Prudence score
The change in the Prudence Score from baseline to three months was significantly greater in the intervention group (5.88 to 6.25, difference + 0.37) when compared to the control group (5.84 to 5.96, diff = 0.12) (F = 13.3, p = 0.01). (Table
3
) Similar changes at 3 months were observed for men (F = 4.6,
P
 = 0.03) and women (F = 8.6,
P
 = 0.003). The participants who were lost to follow-up at three months had significantly lower Prudence Score at baseline compared to continuing participants (5.35 versus 5.85, F = 2.8, p = 0.02). However, with an intention-to-treat analysis the mean Prudence Score still showed significant increase in the intervention group compared to the control group (6.02 versus 5.74, F = 11.58, P < 0.001).
Table 3
Effect of intervention on the Prudence Score at 3 months (n = 1599)
Intervention

Control

T-test (p value) a

Repeated Measures ANOVA b

Repeated Measures ANOVA c

Prudence Score (95% CI)

Prudence Score (95% CI)

Total

Baseline

5.88 (5.77-5.99)

5.84 (5.73-5.96)

t = 0.44 (p = 0.66)

F = 13.3 P = 0.01

F = 11.58 p < 0.001

3 months

6.25 (6.13-6.36)

5.96 (5.84-6.08)

t = 3.47 ( p = 0.001)

Net Change

0.37

0.12

Men

Baseline

5.60 (5.39-5.80)

5.45 (5.22-5.67)

t = 0.99 (p = 0.32)

F = 4.6 p = 0.03

F = 4.0 P = 0.04

3 months

5.92 (5.72-6.13)

5.55 (5.33-5.77)

t = 2.45 (p = 0.014)

Net Change

0.32

0.10

Women

Baseline

6.01 (5.88-6.14)

6.01(5.88-6.16)

t = 0.04 (p = 0.96)

F = 8.6 p = 0.003

F = 7.6 P = 0.006

3 months

6.40 (6.26-6.54)

6.13(5.99-6.27)

t = 2.72 (p = 0.006)

Net Change

0.39

0.12
When participants were categorised into 3 groups according to the baseline Prudence Scores (Table
4
), the maximum improvement in Prudence Score was observed in the low baseline score group, an increase of 1.18 in the intervention group, but low scoring controls also improved their Prudence score by 0.82(net difference +0.36). Both groups of participants with high baseline scores reported a decline in Prudence scores at 3 months, but a significantly lesser reduction in the intervention group (net difference of +0.61) suggested that the intervention was possibly most effective in participants already following predominantly healthy behaviours.
Table 4
Effect of intervention on the P-Score (n = 1599) for high, medium and low scores at baseline
Prudence Score Category#

Mean score at baseline (SE)

Mean score at 3 months (SE)

Net difference

Repeated measures ANOVA*

Low Scorer (0–4)

Intervention

3.40 (0.047)

4.58 (0.113)

1.18

F = 4.18 p = 0.04

Control

3.44 (0.053)

4.26 (0.109)

0.82

Medium Scorer (5–7)

Intervention

6.00 (0.030)

6.32 (0.059)

0.32

F = 6.82 p = 0.01

Control

5.92(0.031)

6.04(0.058)

0.12

High Scorer (8–10)

Intervention

8.33 (0.048)

8.04 (0.101)

−0.29

F = 4.97 p = 0.03

Control

8.33 (0.044)

7.33 (0.109)

−1.0
Discussion
The primary aim of this study was to assess the effectiveness of a minimal, computer-tailored intervention in a primary care setting using a summary health behaviour score. This intervention was effective in increasing the lifestyle score over a three month period, although a statistically significant positive change was observed in only three individual health behaviours. The implications of this study are supported by primary prevention studies that have demonstrated morbidity and mortality benefits from lifestyle behaviour change [40, 46, 47].
Study participants showed a significant increased adherence to guidelines for salt intake, fish intake and type of spread used. A similar increase in fish consumption was observed in an intervention study by Sacerdote et al. [48]. Other interventions targeting self-reported dietary intake in primary care populations have produced only small improvements, consistent with our results on fruit and vegetable intake [49]. The three behaviours that showed significant improvements are probably easier to adopt due to simple substitution, for example using margarine rather than butter. Behaviours such as increasing physical activity or smoking cessation probably require greater organisation and motivation. It is likely that the minimal intervention provided was insufficient to enhance organisational skills or able to reinforce motivation to change these complex behaviours. None the less , success in adopting easy behaviours might increase confidence and self-efficacy to facilitate subsequent attempts at more difficult to change behaviours [50].
The response fractions at baseline (57%) and three months (76%) are comparable to other studies undertaken in general practice settings [51]. The strategies used in this trial, such as repeat mailing to initial non-responders, GP endorsement and shorter questionnaires, have been shown to improve response to postal questionnaires in health care research [52]. GP endorsement of invitation letters and questionnaires may have improved the extent of behaviour change detected, due to the authority and esteem held by patients for their doctor.
Women in the study had significantly higher Prudence Scores than men at baseline and at three months. The change over time was also greater in women; though not significantly so. Similar gender differences in health have been observed in other studies [53, 54]. This difference could be partly due to women accompanying their children for medical attention and their more regular attendance for contraception and screening tests. Women make up 60% of visits to Australian general practices [55] and are therefore more likely to receive greater exposure to health information. However, our finding that this intervention was equally effective in changing behaviours in both men and women might provide opportunities to close the gender gap. As men are traditionally harder to reach with health messages than women [56], the minimalist nature of our intervention might be better suited for them.
Limitations of our study include firstly the dichotomous scoring system for health behaviours, where sub-threshold change in behaviour remains undetected. Yet this would suggest that our results might have underestimated the real extent of behaviour change. However, the Prudence Score is designed for simplicity in order to provide easy to interpret feedback about health behaviours to large numbers of patients. Secondly, the ten component behaviours are equally weighted in their contribution to the Prudence Score, rather than being weighted according to their relative impacts on health. Dietary factors are over represented compared to exercise and smoking, which only contributed a single score each. A study employing an equally weighted lifestyle scoring system used all the same items as the Prudence Score ( except vegetable and fruit intake and type of spread ) to predict mortality in both healthy elderly men and older men with established vascular disease [39, 57]. It was able to demonstrate a linear relationship between increasing lifestyle score and decreasing mortality rate with an absolute reduction in cumulative mortality of 0.62% per single additional healthy behaviour [57] . This suggests that the aggregate score is a meaningful summary of an individual's effort to protect their health. However, assessing the direct impact of the Prudence score on morbidity and mortality is beyond the scope of this trial. Thirdly, the use of self-reported data was a potential weakness: however the assessment questionnaire was previously validated [37] and our study participants were representative of the wider Australian population [6, 58]. Finally, as this project provided print-based feedback to participants the process of data collection and feedback provision was labour intensive. However, a fully automated implementation, applying waiting-room kiosks or tablets, can easily be developed based on this study. Further research is needed to determine the effectiveness of a fully automated version of this intervention.
Our study had several strengths: a randomised design with allocation concealment, measurement of individual as well as aggregate changes in health behaviours and a large sample size. Lifestyle interventions focused on prevention must be effective but also available and accessible to the public. The ten behaviours in the Prudence Score can be measured by an individual without the help of a health professional. Lifestyle changes arising from this intervention were achieved without face-to-face intervention or planned GP advice and are likely to be cost effective outside the research setting. A particular advantage of this intervention is its population coverage given very high levels of access to primary care in Australia [6].
Conclusion
Finding feasible and innovative ways to use technology for improving health behaviours in large numbers of individuals is vital for the primary prevention of NCDs. Geoffrey Rose's notion that population-wide strategies are likely to be more effective than those that focus on high-risk individuals [59] calls for research into such minimal, wide-reach interventions. This study contributes to this research agenda by extending the limited evidence currently available in the field of multiple health behaviour change intervention trials in the general practice setting. Although the individual behaviour changes resulting from this intervention were relatively modest, the Prudence Score, which can be implemented on a large scale and is easy to calculate, appears to be a useful tool for improving behaviours in primary prevention.
Authors contributions
SP recruited the general practitioners and study participants, collected and analysed the data and drafted the manuscript. DK participated in recruiting general practitioners. CV also provided supervision in generating tailored feedback and health promotion materials. DK, FB and CV helped to draft the manuscript. SP, CV, DK, and FB read and approved the final manuscript.
Abbreviations
BMI:

Body mass index
GP:

General practitioner
NCD:

Non-communicable disease
NHF:

National heart foundation
NHMRC:

National health and medical research council
NNT:

Number needed to treat.
Declarations
Acknowledgements
We acknowledge the late Professor Konrad Jamrozik's contribution to the conception, design and implementation of the study prior to his death in March 2010. This work was funded by the MBF Foundation (currently BUPA Health Foundation), a charitable organisation. SP was supported by a National Health and Medical Research Council of Australia post-graduate scholarship (2007–09). CV is supported by a National Health and Medical Research Council of Australia (#519778) and National Heart Foundation of Australia (#PH 07B 3303) post-doctoral research fellowship. We sincerely thank the patients, doctors and staff of the general practices involved with this project.
Authors' Affiliations
(1)
School of Population Health & Healthy Communities Research Centre, The University of Queensland Herston, Queensland, Australia
(2)
Institute for Health and Social Science Research, Central Queensland University, Rockhampton, Australia
(3)
School of Medicine, The University of Queensland, Herston, Australia
(4)
The University of Queensland, School of Population Health, Qld, Australia
Copyright
© Parekh et al.; licensee BioMed Central Ltd. 2012
This article is published under license to BioMed Central Ltd. This is an Open Access article distributed under the terms of the Creative Commons Attribution License (http://creativecommons.org/licenses/by/2.0), which permits unrestricted use, distribution, and reproduction in any medium, provided the original work is properly cited.