Overweight and obese adolescents: what turns them off physical activity?
International Journal of Behavioral Nutrition and Physical Activity
2012
9:53
Received: 21 April 2011
Accepted: 3 May 2012
Published: 3 May 2012
Abstract
A systematic review of qualitative studies was undertaken to understand the barriers to physical activity experienced by adolescents who were overweight or obese. From a search of electronic databases and 'grey' literature, published between 1950 and 2009, 15 studies met the inclusion criteria. Bronfenbrenner's model of human development provided an ecological lens for identifying and synthesising barriers to physical activity. Two reviewers appraised study quality. Miles and Huberman's cross-case analysis was integrated with thematic networking to synthesize the individual, interpersonal and environmental level barriers for boys and girls of different ethnicities and socioeconomic status, across school settings and generalised context. Thirty-five barriers were identified, 13 of which occurred in physical activity situations in the school setting, 18 were not linked to a specific setting, and the remainder were common across both contexts. The fact that these barriers emerged from studies that focused on topics such as victimisation and mental health is particularly poignant and reflects the potentially pervasive influence of adolescent's excessive weight not only in relation to physical activity situations but other aspects of their lives. Furthermore, socioeconomic status and ethnicity was poorly considered, with only one study linking these participant characteristics to quotations and discussing the potential implications. At present, there are few qualitative studies with sufficiently thick description or interpretive validity that provide insight into this vulnerable group of adolescents, and give them a voice to influence policy and practice.
Keywords
Barriers
Physical activity
Adolescence
Obesity
Meta-synthesis
Qualitative synthesis
Introduction
Physical activity plays an important role in preventing the development of overweight and obesity in young people and stemming its progression into young adulthood. Adolescence is a particularly vulnerable time for the development of obesity because it is marked by a slowing of growth and corresponding decrease in physical activity levels [1]. A significant proportion of adolescents do not meet recommended physical activity guidelines [2, 3]. In addition, physically active youth have lower levels of adiposity than youth who are less active [4, 5]. Given that there is a much higher risk of overweight adolescents becoming overweight adults [6], engaging young people in physical activity remains a key behavioural target for obesity prevention.
Experiencing obesity during adolescence can have a profound impact on psychosocial development [7] in part because it is a critical period for psychosocial development marked by increasing separation from parents, peer acceptance and identity formation [8]. Adolescents who are overweight are commonly victimised by peers and experience higher rates of low self-esteem, sadness, nervousness and loneliness than peers in the normal weight range [9, 10]. Some of these adolescents, in particular girls and younger adolescents suffer depressive symptoms [11] and are more likely to experience suicidal contemplation if subject to weight-based teasing [12]. Heightened body consciousness has been identified as a unique barrier to physical activity for overweight youth as compared to non-overweight youth [13]. Moreover, overweight youth tend to perceive a greater number of barriers to sports participation, including feeling insecure about their appearance [14]. Peer influences are of great importance during adolescence, particularly early adolescence, and may significantly affect the development of attitudes [7] towards exercise and perhaps also programs designed to encourage weight loss. Peer stigmatization can inhibit participation in exercise [15]. Even health educators must take care when assisting these young people as focusing on the obese child's weight in a negative manner can result in avoidance of exercise programs [16].
Engaging adolescents who are overweight in physical activity requires addressing the barriers that may deter them from participating in the first place. This is important given emerging evidence that these barriers may differ from those of their normal weight peers [14] and persistent evidence that overweight and obese youth are more sedentary and less physically active than their normal weight counterparts [17]. Furthermore, the prevalence of overweight and its cultural acceptance has been linked to ethnicity and socioeconomic status (SES), with greater perceived acceptance evident in those residing in low SES communities/and or with Middle Eastern or Pacific Islander backgrounds [18]. Although current research identifies broadly-defined intrapersonal, interpersonal and environmental barriers to exercise, it is unclear how these barriers are experienced by and deter overweight and obese adolescents from engaging in physical activity in those settings responsible for their socialisation. Such information is needed to develop effective engagement strategies for this group of vulnerable adolescents.
Aims and objectives
This study aims to strengthen the evidence on understanding the barriers to physical activity experienced by overweight and obese adolescents. Study objectives aim to:
1.

synthesize evidence from qualitative research reporting on the barriers to physical activity experienced by adolescents who are overweight or obese with attention to socioeconomic and ethnic differences; and

2.

provide gender, socioeconomic, ethnic and setting-specific implications for engaging adolescents who are overweight and obese in physical activity.
Qualitative synthesis is appropriate for consolidating evidence across studies to develop new explanations for a body of research [19, 20]. A key strength of qualitative research is the insight that it provides into the perceptions and attitudes of those experiencing a particular phenomenon of interest [21]. Consequently, Miles and Huberman's cross-case analysis [22] was integrated with thematic networking [23] to understand the barriers experienced by overweight and obese adolescents to engaging in physical activity or exercise at school, home and in the community.
Results
Quality assessment
Application of the CASP appraisal tool [24] revealed considerable variation in study quality. Two studies were excluded [42, 43] due to inadequate methodological explanation. Only three of 15 studies explicitly identified the qualitative approach used. Phenomenology was used in two studies and grounded theory in a third study. Most studies (67%) conducted individual interviews, while four used focus groups and only one study used both methods. Generally, studies provided little detail on data analysis, researcher reflexivity and strategies used to ensure rigour. Sampling was well reported by all studies, with one exception [42] where inconsistencies and errors in reporting were apparent.
Description of the studies
The 15 studies in the review were published between 1998 and 2009 (Table 2). Of these, eight were from the United States, four from the United Kingdom and one from South Africa, Canada and Taiwan. Only four studies [25–27, 34] focused on understanding barriers to physical activity experienced by adolescents, as one of their main research questions. Remaining studies addressed related issues such as victimisation [28], self-concept [33] and cultural attitudes [31] with barriers to physical activity emerging as themes within their findings, as indicated in Table 2. Nine studies included both genders while the other six studies included girls only. Although all studies targeted participants who were overweight or obese during adolescence, only nine studies reported on the body mass index (BMI) criteria used to classify overweight or obesity.
Furthermore, ethnicity and SES were considered to different extents in the primary studies, as evident in Table
3
. Eight of 15 studies related ethnicity and/or SES to at least one barrier via link to quotation in the results section [
29
,
34
], synthesising the potential influence of ethnicity and/or SES in the discussion section [
10
,
31
,
33
,
35
,
36
] or both [
37
].
Table 3
Level of consideration of socioeconomic status (SES) and ethnicity in primary studies
| Study | Country of study | SES | Ethnicity |
| --- | --- | --- | --- |
| 1. Lee 2009 | Taiwan | 0 | 1* |
| 2. Thomas & Irwin 2009 | Canada | 1 | 1* |
| 3. Trout & Graber 2009 | United States | 1 | 0 |
| 4. Griffiths & Page 2008 | United Kingdom | 0 | 0 |
| 5. Daley 2008 | United Kingdom | 2 | 2 |
| 6. Curtis 2008 | United Kingdom | 1* | 0 |
| 7. Boyington 2008 | United States | 1 | 3* |
| 8. Alm 2008 | United States | 1* | 1 |
| 9. Bodiba 2008 | South Africa | 0 | 3* |
| 10. Langley 2006 | United States | 0 | 2 |
| 11. Wills 2006 | United Kingdom | 3* | 0 |
| 12. Smith 2000 | United States | 3 | 3 |
| 13. Neumark-Sztainer et al. 1999 | United States | 0 | 2 & 3 |
| 14. Neumark-Sztainer, Story & Faibish 1998 | United States | 1* | 3 |
| 15. Smith & Perkins 2008 | United States | 0 | 0 |
Thematic findings
Thirty five basic themes were identified under 14 higher-order organising themes. Ten of these basic barrier themes operated at the environmental level, six at the interpersonal level and a further 19 at the individual level. Barriers identified in the school setting and generalised context (including community and home) were grouped according to the initial deductive global themes (environmental, interpersonal and individual) informed by Bronfenbrenner's model [39].
Findings are displayed graphically in Figures
2
,
3
,
4
with global themes appearing in circles, organising themes in hexagons and basic themes in boxes. Given overlap in the themes by setting, the barriers are described under the relevant global themes with school-related barriers appearing in dotted boxes, barriers in the general context appearing in solid boxes and those identified in both settings depicted in a dotted box nested within a solid box. To summarise the barriers by setting, at the environmental level, five basic barriers operated in the general setting and the remaining five in the school context. At the interpersonal level however, three barriers were experienced in the school, one in the general context and the remaining two in both settings. Furthermore, at the individual level, five basic barrier themes emerged in the school setting, 12 in the general context and two in both domains. Basic themes are underlined to facilitate their identification in Figures
2
,
3
,
4
.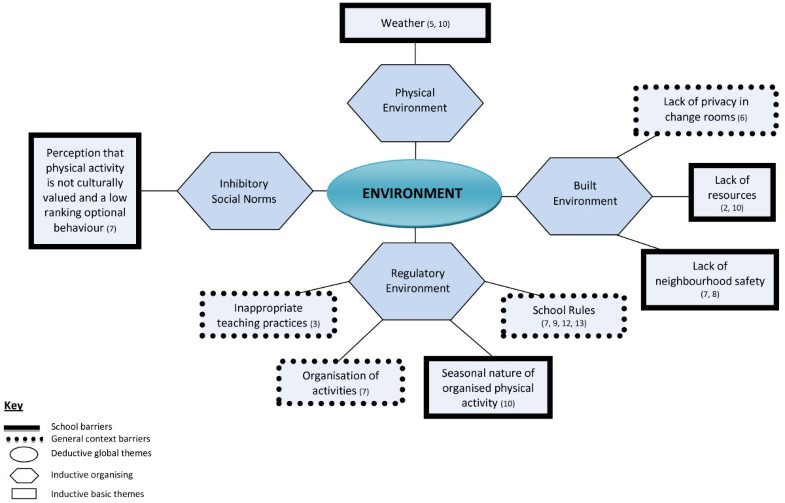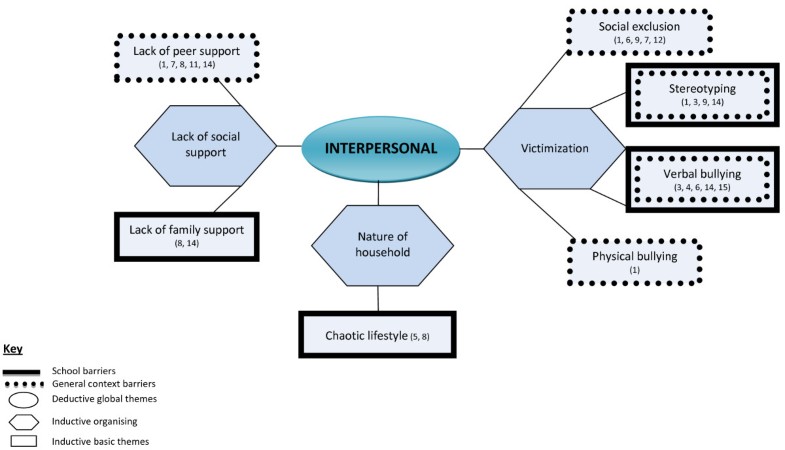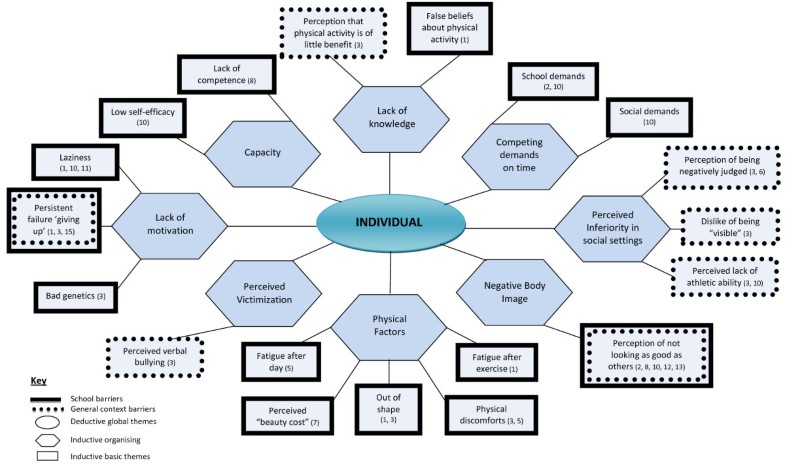 No gender differences were identified in studies including both boys and girls. Given that six studies only included girls, barriers identified as 'unique' to girls in these, were discussed as such in relevant sections. Similarly, barriers identified in studies including participants from the same ethnic and/or SES group or studies which reported unique barriers for specific ethnic or SES groups in quotations, were discussed in relevant sections.
Quotations from primary studies which represent basic themes in thematic network coding are presented to enhance the interpretive validity of the synthesis. The quotations that best represented each theme were selected, where numerous quotations of the same theme were available, across different studies.
Interpersonal
Victimization
Adolescents in these studies experienced four types of victimization: verbal and physical bullying, social exclusion and stereotyping. Verbal bullying and stereotyping were experienced in both contexts while social exclusion and physical bullying were featured in the school setting only.
Adolescents carrying extra weight were verbally bullied by their peers during school PE lessons. This bullying was triggered by engagement in strenuous activities which "emphasise the overweight child's body", for example trampolining:
"I get bullied, you know at school, at…and I get bullied at PE because when…we had trampolining and I didn't want to go in then, because people would like take the mickey." ([30], p.413)
Unfortunately, PE classes are mandatory unless adolescents have a note to be excused from class. This leaves them in an inescapable situation of having their body on display and vulnerable to the influence of insensitive peers. Reports of name calling, such as "Shamu [the whale]" ([27], p.279) during swimming lessons were common. There is further indication that verbal bullying is persistent, raised here in relation to the generalised context:
"In the gym, they laugh and talk behind my back," and "It hurts me when they say 'hey there, fat kid.' I try to ignore them, but it does not stop." ([38], p.392)
Taiwanese adolescents also expressed being physically bullied due to their overweight in school PE classes:
"I don't like it because I'm fat and often get hit by others. When we play dodge ball, I'm often the target that gets hit, so I don't like it." ([25], p.173)
In addition to overt acts of verbal and physical bullying, adolescents were socially excluded by peers at school [36] and were pushed to the "outside of local peer culture":
"you were classed, if like in the first year, you were decided that you were one of the outcasts, you weren't the same as everybody else you were pushed to the outside and you weren't let in …" ([30], p.414)
Social exclusion often occurred below the radar of teachers and left adolescents on their own to cope with this taunting.
Stereotyping was identified as affecting girls' involvement in physical activity in both the school and general contexts. This was discussed in relation to negative stereotypes that others hold of individuals who are overweight, for example that they are inactive or lazy. Furthermore, adolescents who are overweight were also perceived to be "unable to do certain physical activities" [10] like dancing for example, and in some cases were even stereotyped by teachers who would say "It's a little too strenuous… you might want to sit this one out" ([27], p.278). Such victimization from figures of authority was particularly frustrating as in this case, the adolescent wanted to participate.
Nature of household
Adolescents living in noisy and cramped households led a "chaotic and unstructured lifestyle" with friends and family members frequently hanging out at their home and having parents who worked long hours or multiple jobs ([32], p.281). The nature of such chaotic households was described as a barrier to engagement in structured physical activity. The lack of predictability of household events made it challenging for young teens (15 years) to attend activities on time, especially if they required assistance with transportation.
Lack of social support
The lack of peer support took on different forms. It was identified as a blatant disapproval from peers who were opposed to the adolescents' weight loss attempts, which included physical activity. Alm et al. described those adolescents who had a significant other who preferred a "voluptuous" ([32], p.281) partner and those with friends who were overweight and opposed weight loss encountered significant barriers to engagement. Additionally, Wills et al. identified that not having friends to exercise with hindered participation [35] as exercising alone made adolescents "…bored and [that the exercise] has no purpose at all." ([25], p.174)
Lack of family support was identified by overweight adolescents from low SES backgrounds as affecting engagement. Parental discouragement through blaming for their overweight and sedentary lifestyle was described as a barrier to behaviour change in adolescents attending a weight management program which included physical activity [32]. Furthermore, parents who were not trying to improve their own activity levels hindered engagement because adolescents often did not have anyone to be active with.
Discussion
A synthesis of 15 qualitative studies points to four key findings worthy of discussion. First, adolescents who are overweight and obese experience a range of barriers to participation in physical activity; some barriers are specific to this group while others potentially apply to all adolescents. Others, such as physical discomfort and fatigue, while general in nature, are exacerbated by the weight status of the adolescent. Second, and relatedly, environmental and interpersonal circumstances may reinforce negative self-perceptions in overweight and obese adolescents in school or generalized settings at a critical point in their psychosocial development, thus magnifying their psychosocial vulnerability. Third, it would appear that girls may confront barriers to physical activity not shared by boys. Forth, there is some indication that barriers may be uniquely experienced by adolescents from low SES backgrounds and certain ethnicities. The findings point to implications for engagement of this vulnerable group of adolescents in physical activity.
Nature of barriers
Evidence from previous studies shows that environmental level barriers such as lack of resources [44], lack of neighbourhood safety [44, 45] and organization of physical activity [44] are prevalent among all adolescents, irrespective of weight status. Furthermore, interpersonal barriers such as lack of peer [44] and parental support [46] as well as victimization [44] were reported by all adolescents. Being overweight however, appears to create an additional factor which predisposes this group of adolescents to higher levels of victimization and difficulty in forming peer relationships, all of which are pertinent to physical activity engagement. Similarly, individual level barriers such as competing demands on time [44], low self-efficacy in overcoming transportation barriers [47] and perceived lack of athletic ability relative to peers, although reported by all adolescents, are likely exacerbated by weight status. Consequently, barriers experienced by all adolescents, in addition to those either unique to or exacerbated by obesity, increase overweight and obese adolescents' psychosocial vulnerability at a critical period of psychosocial development and significantly influence participation in physical activity across settings.
Psychosocial vulnerability in relation to settings
The school is a key setting for adolescent socialisation [39]. It was prominently featured by nearly half the studies in the review as the setting in which barriers to physical activity occurred. Overweight or obese adolescents were subjected to environmental and interpersonal threats in this context, including bullying [28, 30], and social exclusion emanating from a lack of privacy in change rooms [30] or mandated PE uniforms considered revealing of the overweight figure [38]. For some adolescents, these experiences contributed to the cultivation of self-perceptions of inferiority and negative body image during a formative period of identity development and the establishment of relationships, including those with the opposite sex.
Some barriers identified within the school setting were also described in the general context. For instance, at the environmental level, the regulatory environment and inhibitory social norms were identified as major barriers across both settings. Furthermore, it was at the individual level where the majority of barriers were described in the general context. Although more research is required to explicate how barriers are experienced by adolescents in different settings, the lack of differentiation and alignment of individual level barriers with a general context may highlight the pervasiveness of these individual barriers across contexts.
Furthermore, the fact that the barriers to physical activity emerged from studies that focused on topics as victimisation, stigmatisation, mental health and body image is particularly poignant and reflects the potentially pervasive influence of their excessive weight not only in relation to physical activity situations but other aspects of their lives. It also points to a heightened sense of psychosocial vulnerability in overweight and obese adolescents during a formative period of their psychosocial development [7, 8]. Adolescents compare themselves to their peers and make judgments about their relative social standing based on how they are treated and what they perceive others to think of them – even if what their peers are thinking is not accurate. Egocentrism is heightened during early adolescence and is characterised by a belief that peers are watching, thinking about and monitoring them [48]. According to Elkind [48], adolescent egocentrism represents a fault in early formal operational thought because adolescents mistakenly believe that others are thinking about them as much as they are thinking about themselves. Nonetheless, this perception is vivid and real and something that adolescents who are overweight or obese appear to experience with heightened intensity particularly in the presence of the opposite sex.
Gender, ethnicity and socioeconomic status
Six studies included only female participants [10, 28, 31, 33, 34, 37] giving rise to an over-representation of this gender in the review. Barriers noted as unique to this gender in this review included the perceived "beauty cost" [31] and a lack of resources [34].
The "beauty cost" of messy hair, runny make-up and breaking finger-nails deters at least a sub-group of girls from physical activity which may signal their interest in looking attractive and forming relationships with boys. The findings illuminated in the review also suggest that girls feel hindered by a lack of access to the right exercise equipment. Some research shows that lack of exercise resources was influenced by perceived self-efficacy to overcome barriers [49, 50]. One might surmise that a lack of resources would apply to boys as well; however, this did not emerge in our findings because a majority of studies focused on the experience of girls. Studies including both genders are needed to better understand similarities and differences in the barriers to physical activity.
It is difficult to make inferences about the roles of ethnicity and SES in relation to barriers to physical activity. First, most studies included in the review did not focus on physical activity barriers specifically. Second, most studies did not examine differences in experiences of barriers in relation to ethnicity and SES, and for some studies, participants were from the same ethnic or SES group. Given this, it is of interest to note that in one study African-American girls who are overweight did not perceive their weight as an issue and therefore weight-related comments did not motivate them to change their physical activity habits [31]. Furthermore, while only five studies attempted to discuss potential differences between ethnic groups in the discussion section, all but one failed to base these on specific quotations. These discussions concluded that African American girls encountered hurtful situations with strangers while Caucasian girls did not [10] and another expressed that the African American social environment is less negative about obesity [36, 37]. However, both studies found similarities between ethnic groups in adolescents' description of hurtful experiences [10], body and self image dissatisfaction, pertaining to clothing in particular [37]. Differences in cultural norms were also considered and no difference in attitudes was found between black South African adolescents and their western counterparts [33]. Adolescents from low SES backgrounds described barriers including lack of competence [32] and family support [10, 32]. Conversely adolescents from relatively high income families reported the least amount of acceptance of overweight individuals [36].
Limitations
Findings should be interpreted in relation to study quality, which was variable. Few studies explicitly identified their qualitative approach, provided sufficient justification for data collection methods or detail on data analysis. Problems were also noted with researcher reflexivity and strategies used to ensure rigour. Furthermore, a number of studies failed to provide appropriate references for the analysis processes used. Nearly all studies commented on the value of the research, although a number of these failed to identify areas for future research. In addition to concerns regarding study quality, a key limitation of this meta-synthesis was that the majority of included studies, with four exceptions [25–27, 34], were not aimed at understanding the barriers to physical activity experienced by adolescents who are overweight. Instead, barriers emerged as themes in studies focusing on other issues including stigmatisation and self-image. Consequently, the findings synthesised lack depth and in some cases are not even supported by quotations. The reporting on ethnicity and SES in primary studies at both the descriptive and synthesised levels was very poor, especially in relation to the review question focusing on barriers to physical activity. The inferences that can be made to address research objectives are thus limited.
Implications for engaging adolescents in physical activity
The second study objective was to identify implications for adolescent engagement in physical activity. Schools are a powerful context for shaping the lives of young people. Adolescents who are overweight or obese are vulnerable to internalising their experiences with environmental and interpersonal barriers to physical activity at a formative period of their development. Whole-of-school anti-bullying programs that promote the values of respect and fairness will likely be more successful than strategies that perpetuate the stigmatisation and victimisation of adolescents by isolating them or a particular incident out amongst their peers. The quotations suggest that adolescents who carry extra body-weight do not want to be on display; they want to fit in and be a part of the group. School dress codes, particularly for PE clothing, should accommodate larger body sizes so that short or tight fitting clothing can be avoided. Concessions should be made for adolescents to dress for PE in private change rooms or bathroom cubicles rather than in an open changing area. In addition, PE classes should offer activities that are suitable for all athletic and body types, and allow adolescents some choice in the matter. All school staff, but PE staff in particular, would benefit from training that raises their awareness and competencies to address the environmental, interpersonal and individual barriers that overweight and obese adolescents confront in relation to physical activity and other learning situations. This type of training should be extended to parents and other exercise or physical activity providers in community centres and clubs. The paucity of gender specific data limits the recommendations that can be made with respect to gender across settings. Further research is required to address these limitations.
Implications for future research
Findings from this qualitative synthesis present a first step towards reducing the knowledge gap in understanding the barriers to physical activity for adolescent who are overweight and obese. Given that only four of the 15 studies fit the review question well, further qualitative research is required with a specific focus on understanding the barriers to physical activity. Most studies included in this review offer thin descriptions on some aspects of adolescent's experiences with barriers to physical activity. Little is known about how adolescents cope in these physical activity situations and how these experiences shape their identity, social relationships and engagement in physical activity in the longer-term. There is a need to focus on potential differences in barriers faced by adolescents of different SES and ethnic groups and the reporting of these in primary studies to facilitate future between group comparisons. The sensitive and stigmatising nature of the topic lends itself to interviewing young adults reflecting back on their adolescent experience. Such an approach would also provide a rich developmental perspective and potentially pinpoint developmental points of particular vulnerability and opportunity. Only when this knowledge gap is addressed will teachers, parents, coaches and others involved in the delivery of exercise and sporting activities, be able to create environments that engage adolescents who are overweight or obese in physical activity.
Authors' Affiliations
(1)
School of Health Sciences, University of South Australia, Adelaide, Australia
(2)
Social Epidemiology & Evaluation Research Group, Sansom Institute for Health Research, University of South Australia, Adelaide, Australia
(3)
Health and Use of Time (HUT) Group, Sansom Institute for Health Research, University of South Australia, Adelaide, Australia
Copyright
© Stankov et al.; licensee BioMed Central Ltd. 2012
This article is published under license to BioMed Central Ltd. This is an Open Access article distributed under the terms of the Creative Commons Attribution License (http://creativecommons.org/licenses/by/2.0), which permits unrestricted use, distribution, and reproduction in any medium, provided the original work is properly cited.