Combining GPS, GIS, and accelerometry to explore the physical activity and environment relationship in children and young people - a review
International Journal of Behavioral Nutrition and Physical Activity
2014
11:93
Received: 4 April 2014
Accepted: 2 July 2014
Published: 13 September 2014
Abstract
The environment has long been associated with physical activity engagement, and recent developments in technology have resulted in the ability to objectively quantify activity behaviours and activity context. This paper reviews studies that have combined Global Positioning Systems (GPS), Geographic Information Systems (GIS) and accelerometry to investigate the PA-environment relationship in children and young people (5-18 years old). Literature searches of the following bibliographic databases were undertaken: Sportdiscus, Medline, Embase, CINAHL, Psychinfo and Applied Social Sciences Index and Abstracts (ASSIA). Fourteen studies met the inclusion criteria, and covered topics including greenspace use, general land use, active travel, and the built environment. Studies were largely cross-sectional and took place across developed countries (UK, USA, Canada, New Zealand, and Australia). Findings suggest that roads and streets, school grounds, and the home location are important locations for total PA, and moderate to vigorous PA (MVPA). The relationship between greenspace was positive, however, multiple definitions and outcome measures add complexity to the results. MVPA was more likely in those exposed to higher levels of greenspace compared to sedentary individuals. Total MVPA time in greenspace is low, but when framed as a proportion of the total can be quite high. Domestic gardens may be an important area for higher intensity activity.
Researchers are encouraged to show transparency in their methods. As a relatively new area of research, with ever-evolving technology, future work is best placed in developing novel, but robust, methods to investigate the PA and environment relationship. Further descriptive work is encouraged to build on a small but increasing knowledge base; however, longitudinal studies incorporating seasonal/weather variation would also be extremely beneficial to elicit some of the nuances associated with land use. A greater understanding of geographic variation (i.e. within and between countries), as well as urban/suburban and rural dwelling is welcomed, and future work should also include the investigation of psycho-social health as an outcome, as well as differences in socio-economic status, sex and adiposity.
Keywords
Physical activityGlobal Positioning System (GPS)Geographic Information System (GIS)AccelerometerEnvironmentChildrenYoung people
Introduction
Physical activity (PA) is an important contributor to physical and mental health in young people [1]-[3]. The determinants of PA are multiple and inter-related, and ecological models suggest that many levels of determinants interact to influence domain specific behaviour [4]. One level of interest is the physical environment, and the number of studies exploring environmental correlates/determinants of PA has grown rapidly in recent years [5]-[11]. Some have investigated individual environmental determinants such as parks, recreation and greenspace [12],[13]; some have concentrated on particular domains of PA such as active travel [14]; and others have focussed on the measurement of environmental exposure, including, questionnaires [15] and Global Positioning System (GPS) devices [16]. To date, no paper has summarised the research that uses objective measures of environmental exposure and both PA level and its context, in children and young people.
Part of the recent growth in the environmental determinants of PA literature can be attributed to the advancement of technology; improvements in the measurement of PA (e.g. accelerometry) provide a more accurate representation of this health behaviour, and advances in computer software (e.g. Geographic Information Systems; GIS) provides the tools to measure physical environmental characteristics of the land that people inhabit. Moreover, it is now possible to provide context to PA with the advent of portable, consumer-level Geographic Positioning System (GPS) devices. Previously, researchers would often measure the effects of the environment through questionnaire or self-report [15],[17]-[19]. The outcomes have therefore been based on perceptions of the environment, as well as perceptions of activity levels - a potential same source bias concern [20]. The heterogeneity of design and methodology, particularly in PA and environment measurement, has led to inconsistencies in some hypothesised relationships between the environment and PA [11], including greenspace [13]. As a theoretically valuable resource for PA [21], one would hypothesise that having greater access to green spaces would result in greater levels of PA, however, according to a recent review [13] the relationship is still unclear. Approximately 40% of the studies reviewed (n = 50) found a positive relationship between greenspace and PA, six of which were for children/teenagers. Conversely, 15 studies found no association between greenspace and PA, and 13 were weak or of mixed outcome. A further two found a negative relationship between the two variables. Of the 50 studies included, the majority (n = 41) used self-report methods of PA assessment - only nine used accelerometry. Moreover, GIS based environmental exposure has had the tendency to use a mathematically derived buffer surrounding individuals' residential location to define the accessibility of nearby greenspace to the participant. One reason for the inconsistencies from this type of approach is that proximity to greenspace may not translate to actual use, and Lachowycz and Jones [13] suggested that more research is required to investigate if, and how, greenspace is actually experienced. The advent of GPS devices allows for the where and when of PA to be investigated [8], and it has been suggested [6] that the combination of GPS, GIS, and accelerometry data would be a useful addition to the current understanding using self-reported measures. It has also been cited that environmental correlates of PA in youth tend to be more credible when results have been based on objectively measured environmental variables [11]. However, being novel in approach, there is also a tendency to use these technologies (e.g. GPS) without being fully aware of their capacity, and/or limitations. A current example of this may be the potential bias associated with `selective daily mobility' [22], whereby spurious causal inferences between environmental factors and health behaviours are evidenced, as a result of GPS derived outcomes, but are actually confounded by other, unmeasured, factors (e.g. intrapersonal variables such as positive attitudes, and high self-efficacy). According to Chaix and colleagues, 'this bias stems from the fact that measures of accessibility to given environmental resources are also determined from the locations that were specifically visited to use the corresponding resources' [22], p.48]. With this type of research being in its relative infancy, a review of the current literature - using these technologies within a specific population - may be beneficial for further work in the area, particularly as the authors are unaware of any paper that has attempted to summarise the research that has used objective approaches to both physical activity levels and its context, in addition to any potential environmental correlates.
The purpose of this review was to (i) synthesise and summarise the research that has used the combination of GPS, GIS, and accelerometry to investigate the physical environment/PA relationship among young people (5 - 18 years old) and (ii) identify gaps in knowledge that future research should address.
Methods
Search strategy
The initial stage was to establish the three core concepts of the paper: 1) physical activity, 2) movement monitoring (accelerometry) and 3) mapping (GPS and GIS). Following careful consideration of potential databases, the following were used for the main search: Sportdiscus, Medline, Embase, CINAHL, Psychinfo and Applied Social Sciences Index and Abstracts (ASSIA).
Terms sets were developed for each concept, using both free text and index terms. For the concepts of movement monitoring and mapping, term lists included the proper and trade names of devices and technologies (e.g. Actigraph, Garmin). Trial searches were then run to ensure that they retrieved all key papers, and terms lists were revised to improve precision and recall. Final searches were run on the 12th of June 2013 and all references were exported to bibliographic software (Endnote) and de-duplicated.
Eligibility
Our review included studies which were not limited in methodological design, or quality. The following criteria were used to assess eligibility: (i) The study used accelerometers to measure PA in humans; (ii) the study used GPS devices to measure context of PA behaviour; (iii) the study combined the accelerometer and GPS data for use in a GIS package; (iv) the population investigated were children and young people between the ages of 5 and 18 years old.
Selection
The lead author screened all articles and subsequently narrowed the search results based on eligibility. Initially, all returned articles were screened based on titles. All papers with clear deviation from the review topic were discarded. Secondly, abstracts of remaining articles were screened, and either passed on to the next stage for full text retrieval, or removed due to clear irrelevance and non-fulfilment of eligibility criteria. The third step retrieved the full text of remaining articles. Each paper was assessed against the eligibility criteria and included or excluded. The reference lists of all included papers were screened for further relevant papers.
Data extraction
The data extracted included: general characteristics (first author, year, location, and journal); design and sample population; measurement devices used and accompanying details; GIS information, including the environment/neighbourhood variables measured; results and findings.
Findings
The flow chart representing study selection, including reasons for exclusion, is summarised in Figure
1
. Following removal of duplicates, the literature search yielded 1314 articles. From this initial pool, 1174 were excluded based on irrelevant titles, and a further 93 removed upon reading the abstract content. The wrong population group, age ranges, and unrelated subject matter (i.e. not related to environmental determinants) were primary reasons for removal. Full text was retrieved for 47 articles and 12 met the eligibility criteria. Two papers were found upon screening of the reference lists of eligible papers, resulting in 14 papers in total.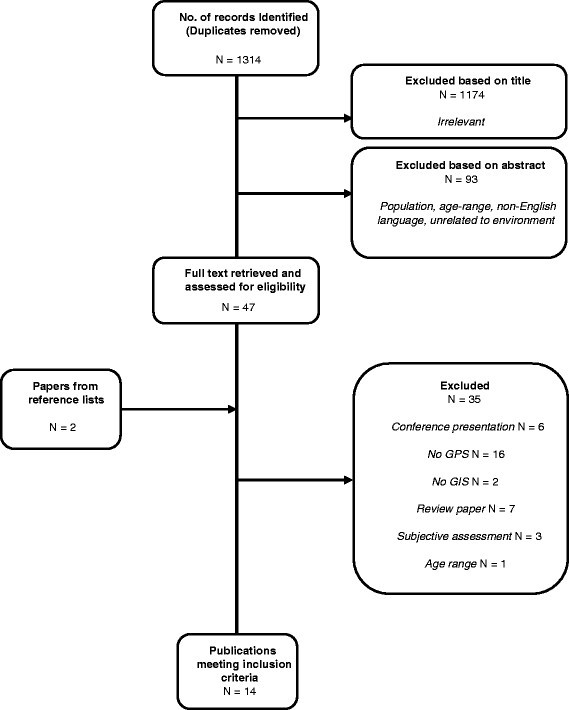 Characteristics of included papers
Of the 14 papers included, seven were conducted in the UK [
23
]-[
29
], four in the US [
30
]-[
33
], two in New Zealand [
34
],[
35
], and one in Canada [
36
] (Table
1
). With a subject topic that includes PA, health, geospatial, environment, and place based elements, the sources for publication were varied. The majority (92%) of the studies were cross-sectional analyses, with one involving a longitudinal approach [
33
]. Multiple papers included in this review were focused analyses of the same, but larger, projects, including: the Sport, Physical Activity and Eating Behaviour: Environmental Determinants of Young People project (SPEEDY; UK [
23
],[
25
]); the Personal and Environmental Associations with Children's Health project (PEACH; UK [
24
],[
26
],[
28
],[
29
]); Healthy Places; the Trial of Activity for Adolescent Girls project (TAAG 1 & 2; US [
32
],[
33
]); the ICAN project (NZ [
34
]); and the Children's Activity in their Local Environment study (CALE; Canada [
36
]). The ages of those included ranged from 5-18 years old, with the 10-12 year old age-group being the focus of five papers. Sample sizes varied greatly (Mdn = 119, range = 24-1,053) and depended on the research question being investigated (e.g. validation work or descriptive studies). Two of the largest sample sizes (n = 902, 1053) were from one large scale study - the PEACH project.
Table 1
General characteristics of included articles
First author [reference]

Year

Journal

Location/design

Sample size, % male

Age (yrs)

PA measurement

GPS measurement

Coombes, E. [23]

2013

Health and Place

Norfolk, UK

9-10

Actigraph GT1M

Garmin Forerunner 205

Cross-sectional

n = 100

Part of a larger project - SPEEDY

47% Male

Almanza, E. [30]

2012

Health and Place

California, USA

8-14

Actigraph GT2M

Globalsat BT-335

Cross-sectional

n = 208

Part of a larger project - HEALTHY PLACES

48% Male

Lachowycz, K. [26]

2012

Health and Place

Bristol, UK

11-12

Actigraph GT1M

Garmin Foretrex 201

Cross-sectional

n = 902

Part of a larger project - PEACH

47% Male

Oreskovic, N. [31]

2012

Geospatial Health

Revere, Massachusetts, USA

n = 24

11-12

Actigraph GT1M

Garmin Forerunner 201

Cross-sectional

42% Male

Rainham, D. [36]

2012

American Journal of Preventive Medicine

Halifax, Nova Scotia, Canada

n = 316

12-16

Actigraph GT1M

Globalsat EM-408 SiRF III receiver

Cross-sectional

53% Male

Rodriguez, D. [33]

2012

Health & Place

San Diego, CA Minneapolis/St. Paul, MN, USA

n = 293

15-18

Actigraph 7164

Garmin Foretrex 201

Longitudinal study - TAGG study participants

100% Female

Rodriguez, D. [32]

2012

Journal of Physical Activity and Health

San Diego, CA Minneapolis/St Paul, MN, USA

15-16

Actigraph 7164

Garmin Foretrex 201

Cross-sectional

n = 42

Data collected as part of - TAAG2 study

100% Female

Southward, E. [28]

2012

American Journal of Preventive Medicine

England, UK

11-12

Actigraph GT1M

Garmin Foretrex 201

Cross-sectional

n = 84

Part of a larger project - PEACH

not stated

Cooper, A. [24]

2010

American Journal of Preventive Medicine

London, UK

10-11

Actigraph GT1M

Garmin Foretrex 201

Cross-sectional

n = 137

Part of a larger project - PEACH

44% Male

Maddison, R. [34]

2010

Pediatric Exercise Science

Auckland, NZ

12-18

Actigraph 7164

Garmin Forerunner 305

Cross-sectional

n = 79

Part of a larger project - ICAN study

58% Male

Wheeler, B. [29]

2010

Preventive Medicine

Bristol, UK

10-11

Actigraph GT1M

Garmin Foretrex 201

Cross-sectional

n = 1053

Pilot of a larger project - PEACH

47% Male

Quigg, R. [35]

2010

Preventive Medicine

Dunedin, NZ

n = 176

5-10

Actigraph GT1M

Globalsat DG-100

Baseline data from a 2-year intervention study - CALE

48% Male

Jones, A. [25]

2009

International Journal of Behavioral Nutrition and Physical Activity

Norfolk, UK

9-10

Actigraph GT1M

Garmin Forerunner 205

Cross-sectional

n = 100

Part of a larger project - SPEEDY

47% Male

Mackett, R. [27]

2007

Built Environment

Hertfordshire/Lewisham, UK

n = 82

8-11

RT3 tri-axial accelerometer

Garmin Foretrex 201

Cross-sectional

43% Male
PA and GPS instruments used
The most widely used accelerometer was the Actigraph GT1M (included in 9/14 studies; Actigraph, LLC., Pensacola, FL), followed by the Actigraph 7164 (n = 3) and GT2M (n = 1) devices (Table 1). The RT3 tri-axial accelerometer (Stayhealthy, Inc., Monrovia, CA) was the other device represented. Garmin devices (Garmin International, Inc., Olathe, KS) were the most popular GPS monitoring tool (n = 11/14 studies), with the Garmin Foretrex 201 (n = 7), Forerunner 201 (n = 1), Forerunner 205 (n = 2), and Forerunner 305 (n = 1) all used. The remaining GPS devices were the Globalsat BT-335 (n = 1), DG-100 (n = 1), and the EM-408 receiver (n = 1) (GlobalSat Worldcom Co., New Taipei City, Taiwan).
Study topics
(Additional file 1: Table S2) identifies the detailed data characteristics of each included study. Four studies [26],[29],[30],[35] investigated the contribution/association of green spaces and PA; five studies [23],[25],[31],[34],[36] investigated general land use exposure, using the monitoring devices to assign land use categories and intensity classifications to GPS points. Three studies [24],[27],[28] investigated active travelling/walking patterns, using the GPS technology to map walking trips, and the walk/drive to school. A further article [33] investigated the effects of the built environment, around each GPS point, and the odds of the GPS points being of higher intensity activity. The final study [32] used the combination of devices and technology to investigate the agreement between diary-listed locations and those objectively measured. The results of this study indicated that between 86% and 100% of all diary-reported locations matched that of the GPS identified locations. All other results, sub-categorised by the main environmental interest of the article, are presented in the following sections (Additional file 2: Table S3 for summary of findings).
Conclusions
This review has attempted to scope and synthesise the current literature that has used GPS, GIS and accelerometry in children and young people. It is evident that the field is evolving quickly, however there is a risk that the research being conducted is non-replicable/repeatable due to study specific designs and, in some occasions, insufficient information on the procedures used. However, this review provides early indications that certain environmental characteristics, when measured objectively, have a significant effect upon the PA levels of children and young people. GPS data suggests that pavements (sidewalks)/roads, school grounds, and the home environment are particularly important. The significance of greenspace for PA behaviour, particularly in relation to more intense levels of PA is beginning to be observed. It is important that researchers continue to build upon the work conducted to date, using appropriate research designs and methodologies that investigate multiple variables, including social, psychological, and environmental levels. This will provide a strong evidence base that can inform policy development, with the aim to provide children and young people with the types of environment conducive to all types of informal and formal PA.
Declarations
Acknowledgements
All authors are supported by the UK Medical Research Council (MC_UU_12017/8).
Authors' Affiliations
(1)
MRC/CSO Social and Public Health Sciences Unit, University of Glasgow, Glasgow, Scotland
Copyright
© McCrorie et al.; licensee BioMed Central Ltd. 2014
This article is published under license to BioMed Central Ltd. This is an Open Access article distributed under the terms of the Creative Commons Attribution License (http://creativecommons.org/licenses/by/4.0), which permits unrestricted use, distribution, and reproduction in any medium, provided the original work is properly credited. The Creative Commons Public Domain Dedication waiver (http://creativecommons.org/publicdomain/zero/1.0/) applies to the data made available in this article, unless otherwise stated.