Comparison of an alternative schedule of extended care contacts to a self-directed control: a randomized trial of weight loss maintenance
International Journal of Behavioral Nutrition and Physical Activity
2017
14:107
Received: 10 January 2017
Accepted: 7 August 2017
Published: 15 August 2017
Abstract
Background
Behavioral interventions for obesity produce clinically meaningful weight loss, but weight regain following treatment is common. Extended care programs attenuate weight regain and improve weight loss maintenance. However, less is known about the most effective ways to deliver extended care, including contact schedules.
Methods
We compared the 12-month weight regain of an extended care program utilizing a non-conventional, clustered campaign treatment schedule and a self-directed program among individuals who previously achieved ≥5% weight reductions. Participants (N = 108; mean age = 51.6 years; mean weight = 92.6 kg; 52% African American; 95% female) who achieved ≥5% weight loss during an initial 16-week behavioral obesity treatment were randomized into a 2-arm, 12-month extended care trial. A clustered campaign condition included 12 group-based visits delivered in three, 4-week clusters. A self-directed condition included provision of the same printed intervention materials but no additional treatment visits. The study was conducted in a U.S. academic medical center from 2011 to 2015.
Results
Prior to randomization, participants lost an average of −7.55 ± 3.04 kg. Participants randomized to the 12-month clustered campaign program regained significantly less weight (0.35 ± 4.62 kg) than self-directed participants (2.40 ± 3.99 kg), which represented a significant between-group difference of 2.28 kg (p = 0.0154) after covariate adjustments. This corresponded to maintaining 87% and 64% of lost weight in the clustered campaign and self-directed conditions, respectively, which was a significant between-group difference of 29% maintenance of lost weight after covariate adjustments, p = 0.0396.
Conclusions
In this initial test of a clustered campaign treatment schedule, this novel approach effectively promoted 12-month maintenance of lost weight. Future trials should directly compare the clustered campaigns with conventional (e.g., monthly) extended care schedules.
Trial registration
Clinicaltrials.gov NCT02487121. Registered 06/26/2015 (retrospectively registered)
Keywords
ObesityBehavioral treatmentExtended careWeight loss maintenanceWeight regainAdults
Background
Behavioral weight management interventions typically produce initial reductions in body weight of 7–10%, which provides meaningful benefits for the prevention and management of various health conditions [1, 2]. Within the first year following treatment, however, individuals commonly regain 50–65% of their lost weight [3–5]. To attenuate this weight regain, extended care contacts are recommended for at least 1 year following initial treatment [1]. Indeed, extended care programs significantly reduce weight regain when compared to minimal or no additional contact [6–10]. By providing continued intervention contact focused on maintaining weight loss, participants are assisted in sustaining the self-management strategies necessary for long-term weight management [5, 7, 8].
Despite the documented benefits of maintenance programs, less is known about the best schedule for delivering these programs. Weight loss maintenance programs generally provide contacts on an evenly-spaced schedule, such as bi-weekly or monthly visits [1, 11, 12]. According to learning theory and theories of behavior change [13–15], this fixed-interval schedule is appropriate for the initiation of treatment and learning of new behaviors. This intensive contact schedule provides ongoing opportunities to learn and practice self-management skills while receiving support and corrective feedback from trained interventionists [5, 16].
However, as individuals transition to maintaining self-management behaviors in the extended care phase of behavioral obesity treatment, it is unclear whether the same schedule or intensity of contact is appropriate. In fact, operant learning, self-regulation, and relapse prevention theories [5, 6, 13–20], combined with preliminary research, suggest that an alternative schedule of treatment delivery may be useful for behavior maintenance [21, 22]. More specifically, a temporally-clustered campaign includes periods of frequent contact separated by extended periods without contact, which provides opportunities for intensive support and expert feedback over a shorter time period to further develop skills for weight maintenance behaviors; yet, it also allows for independent practice of self-management skills for extended periods.
Additionally, a clustered campaign schedule during the maintenance phase of treatment may protect against diminished reinforcement, boredom, and behavioral habituation that are common with conventional maintenance schedules [5, 16, 23–26]. Such clustered campaigns can be organized around different themes that may further reduce monotony, which is not typically used in the initial phase of behavioral obesity treatment when novel content is being introduced regularly. It also allows advanced knowledge acquisition and honing of advanced skills during maintenance. Variability in the schedule and content may counter the boredom that can occur during the sessions (e.g., participants get a 'break' from group participation for several weeks between campaigns that might in turn improve engagement when returning to group) as well as habituation with engaging in the same routine and behaviors between sessions. Despite the potential benefits, temporally-clustered sessions may increase the risk of attrition and less timely support due to extended periods without contact.
Contemporary weight loss programs, such as the Look AHEAD trial and Diabetes Prevention Program [27, 28], have incorporated "refresher groups" or "motivational campaigns" delivered on this temporally-clustered type of schedule during the maintenance phases of treatment. However, this alternative maintenance schedule was one part of a multi-component intervention that included continuation of evenly-distributed, fixed-interval contacts. Two other trials also used temporally-clustered extended care contacts to reduce weight regain [21, 29], although novel scheduling was one of several simultaneous treatment modifications, including different intensities of contact [29] and different behavioral prescriptions and goals [21].
Thus, the specific effect of temporally-clustered schedules for extended care remains unclear. To provide an initial test of this alternative extended care schedule in the absence of other treatment components, the purpose of this behavioral extended care trial was to compare 12-month outcomes of a clustered campaign maintenance delivery schedule to a self-directed comparison condition among individuals who previously achieved ≥5% weight reductions. It was hypothesized that an extended care program that included 12 maintenance visits delivered in three, 4-week clusters, would result in significantly better maintenance of lost weight than the comparison condition.
Results
Participant characteristics
Recruitment, treatment delivery, and data collection were ongoing for this project from 11/01/11 to 3/31/15. Baseline (month 0) characteristics of the randomized sample are summarized in Table
2
. The sample was comprised primarily of women (
n
= 103; 95.4%) and racial/ethnic minorities (
n
= 59; 54.6%). Of the 59 minority participants, most self-identified as African American (
n
= 56) followed by Asian (
n
= 1) and "other" racial group (
n
= 2).
Table 2
Baseline characteristics of randomized participants a
Characteristic a

Clustered Campaign Group

(n = 52)

Self-directed Group

(n = 56)

Total Randomized Sample

(N = 108)

Age, years

52.13 (11.75)

51.18 (14.22)

51.64 (13.03)

Gender, No. (%)

 Male

1 (1.92)

4 (7.14)

5 (4.63)

 Female

51 (98.08)

52 (92.86)

103 (95.37)

Race, No. (%)

 Non-Caucasian

28 (53.85)

31 (55.36)

59 (54.63)

 Caucasian

24 (46.15)

25 (44.64)

49 (45.37)

Marital status, No. (%)

 Not Married

20 (38.46)

30 (53.57)

50 (46.30)

 Married

32 (61.54)

26 (46.43)

58 (53.70)

Education, No. (%)

 Associates or lower degree

17 (32.69)

23 (41.07)

40 (37.04)

 Bachelors or higher degree

35 (67.31)

33 (58.93)

68 (62.96)

Income, No. (%)

  ≤ $40,000

13 (25.00)

19 (33.93)

32 (29.63)

 $40,000 - $80,000

23 (44.23)

21 (37.50)

44 (40.74)

  ≥ $80,000

16 (30.77)

16 (28.57)

32 (29.63)

Body weight, kg

92.44 (13.77)

92.69 (12.86)

92.57 (13.24)

BMI, kg/m2

34.93 (4.04)

35.26 (4.21)

35.10 (4.11)
Initial weight loss (months 0 to 4)
While 305 participants initially enrolled in the pre-randomization weight loss program, 108 (35.4% of original sample) completed the initial program and achieved the specified criterion of ≥5% weight loss. Therefore, 108 participants were randomized into the 12-month extended care trial (Fig.
1
). All subsequent analyses are based on the randomized, extended care sample. Table
3
summarizes the pre-randomization weight change of these participants during the initial 16-week program, which represented significant within-group reductions in body weight (mean [SD], −7.45 [3.11] kg in the clustered campaign group and −7.64 [2.99] kg in the self-directed group).
Table 3
Changes in weight during the initial 4-month weight loss program (Months 0 to 4) a
Outcome

Clustered Campaign Group

(n = 52)

Self-directed Group

(n = 56)

Total Randomized Sample

(N = 108)

Body weight, kg

−7.45 (3.11)

−7.64 (2.99)

−7.55 (3.04)

Body weight, %

−8.05 (3.01)

−8.22 (2.83)

−8.14 (2.91)

BMI, kg/m2

−2.86 (1.17)

−3.03 (1.13)

−2.95 (1.15)
Weight loss maintenance (months 4 to 16)
Participants randomized to receive the clustered campaign program regained less weight (unadjusted mean [SD], 0.35 [4.62] kg) compared to those in the self-directed condition (unadjusted mean [SD], 2.40 [3.99] kg) over the 12-month extended care period (Fig.
2
). After adjustment for covariates in the multiple regression model, this represented a significant between-group difference in weight regain of 2.28 kg,
P
-value = 0.0154, favoring the clustered campaign program (Table
4
). Similar results were obtained when the outcome was proportion of weight regain. These values equated to clustered campaign participants regaining 13% (unadjusted mean [SD], 13.11 [57.51] percent) of their initial weight loss, which compared favorably to the nearly 36% regain (unadjusted mean [SD], 35.55 [61.85] percent) observed for self-directed participants. After adjustment for relevant covariates, this represented a significant between-group difference of nearly 29% greater regain in the self-directed condition,
P
-value = 0.0396 (Table
5
).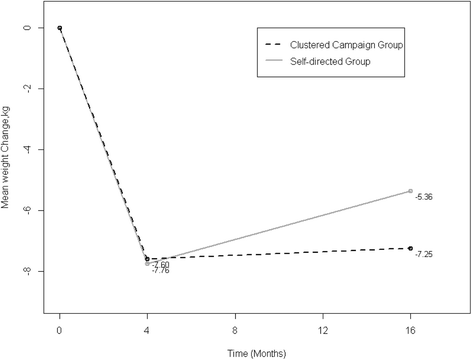 Table 4
Linear regression analysis of weight change (kg) during the 12-month extended care program (Months 4 to 16) a
Independent Variable b

Weight Change, kg

Parameter Est.

Std. Err

P-value

Treatment Condition

−2.28

0.92

0.0154

Randomization Weight

−0.02

0.04

0.6193

Initial Weight Change

0.26

0.15

0.0779

Age

<0.01

0.04

0.9197

Race

−0.73

1.08

0.5015

Marital Status

−1.33

0.94

0.1589

Education

−0.62

0.95

0.5124
Table 5
Linear regression analysis of percentage weight regain during the 12-month extended care program (Months 4 to 16) a
Independent Variable b

Weight Change, %

Parameter Est.

Std. Err

P-value

Treatment Condition

0.29

0.14

0.0396

Randomization Weight

<0.01

0.01

0.4582

Initial Weight Change

−0.06

0.02

0.0170

Age

<0.01

0.01

0.9578

Race

0.04

0.17

0.8106

Marital Status

0.21

0.14

0.1409

Education

0.10

0.14

0.4830
Secondary analyses compared the proportions of participants maintaining a reduced body weight that was at least 5% and 7% below initial (month 0) levels upon completion of the 12-month extended care program at month 16. A slightly greater proportion of clustered campaign participants (62.2%) maintained ≥5% weight reductions compared to self-directed participants (54.9%), although this was not significantly different,
p
= 0.47. However, the proportion achieving ≥7% reductions differed significantly between clustered campaign (51.1%) and self-directed (29.4%) conditions,
p
= 0.03. The adjusted likelihood of achieving ≥5% and ≥7% weight loss at the final follow-up was 1.45 and 2.79 times greater for clustered campaign participants as compared to self-directed participants,
p'
s = 0.3959 and 0.0283, respectively (Table
6
).
Table 6
Likelihood of achieving ≥ 5% and ≥ 7% weight loss maintenance at month 16 in the clustered campaign versus self-directed conditiona
| Weight Loss | Odds Ratio Estimateb | 95% Confidence Interval | P-value |
| --- | --- | --- | --- |
| ≥5% | 1.45 | 0.62–3.41 | 0.3959 |
| ≥7% | 2.79 | 1.12–6.98 | 0.0283 |
Discussion
While previous trials have incorporated clustered campaign schedules into extended care programs to improve long-term weight management, this approach has been included along with other treatment components [27, 28] and/or additional alterations in delivery [21, 22, 29]. Thus, our understanding remains limited about the effect of using only a clustered campaign schedule to prevent weight regain, so the purpose of this study was to conduct an initial evaluation of such a schedule without other treatment components or adaptations (e.g., ongoing fixed-interval contacts, changes in dietary or behavioral targets). In the current sample of treatment-seeking, racially-diverse adults, a clustered campaign extended care program without major additional treatment components significantly improved maintenance of lost weight compared to a self-directed condition. The clustered campaign program resulted in the regain of only 13% of initial weight losses. Individuals in the self-directed condition regained nearly 29% more weight on average.
These findings are encouraging, since the first year following treatment represents a particularly high-risk period for weight regain. During this time, documented levels of weight regain are as high as 65%, which often precedes full weight regain within 3–5 years after treatment [4]. While comparisons to other weight loss maintenance trials are complicated by differences in aspects of treatment, populations, and settings investigated, the current effects appear consistent with outcomes achieved in conventional fixed-interval interventions [4, 6, 7, 30, 36]. Across a number of trials, fixed-interval sessions provided after the first 6 months of treatment resulted in the maintenance of approximately 66% of lost weight [4].
In the intensive lifestyle intervention of the Look AHEAD trial, which included periodic campaigns during maintenance in conjunction with other treatment components, weight losses were 8.5%, 6.3%, and 4.7% at 12-, 24-, and 48-months post-randomization, respectively [37]. Direct comparisons between Look AHEAD and the current trial are complicated by differing study designs (i.e., randomization occurring at baseline versus after initial weight reduction), different lengths of follow-up, and different target populations (i.e., adults with type 2 diabetes in Look AHEAD). However, the current 7–8 kg weight loss observed at month 4 and the maintenance of >7 kg weight loss observed at month 16 (i.e., 12 months post-randomization) are generally consistent with the first 2 years of follow-up in Look AHEAD.
The other trial most similar to the current one involved delivery of six, 8-week units of sessions that were separated by 4 weeks without contact [21]. While this novel timing of contacts seemed beneficial for weight loss maintenance in particular [21, 22], this alternative intervention included a number of other modifications that potentially impacted outcomes, including variety in the behavioral prescriptions, foci, and homework assignments of each unit as well as the use of structured financial incentives/contracts in one unit. Together, findings from the current trial and those observed by Jeffery, Levy, and colleagues [21, 22] support the potential value of a clustered campaign schedule of contacts to promote the maintenance of lost weight and highlight the need for additional research to more fully examine this approach.
Strengths and limitations
The study design and protocol adhered to a structured, intensive, evidence-based program consistent with current treatment guidelines [1]. Randomizing participants to maintenance and comparator conditions after completion of an initial program and achievement of a pre-specified weight loss criterion is consistent with current methodological recommendations [38] and other trials of weight loss maintenance [6, 7, 36]. In contrast, some trials randomize all participants at the beginning of treatment, which is appropriate for understanding overall, long-term weight change rather than weight loss maintenance in particular [38]. Each design has strengths and limitations, and randomizing a subset of the original sample may limit generalizability of findings to the broader population of individuals seeking weight loss treatment. In the current study, for example, only 35% of initially enrolled participants lost ≥5% to become eligible for randomization. In addition, only 53% of the original (pre-randomization) sample completed the initial, 4-month weight loss program. Although this protocol included evidence-based levels of contact during initial treatment, it provided minimal additional resources, make-up sessions, or other efforts to bolster attendance or adherence for those who were not initially responding to treatment. In addition, there was limited pre-screening of individuals and relatively modest exclusion criteria for enrollment, which contrasts with extensive screening procedures and behavioral run-in periods common to other weight loss trials (e.g., DPP, Look AHEAD).
The racially-balanced sample was a strength, as well as the high retention rate (89%) at follow-up. However, as 95% of participants were women, findings may not generalize to men. Furthermore, there were a high proportion of African American women, a group demonstrating more modest weight loss during the first few months of lifestyle interventions [39–41]. The current treatment response (i.e., 35% achieved pre-specified criterion of success) is lower than the 61% of participants who achieved a > 4-kg loss in the similarly-designed Weight Loss Maintenance (WLM) trial [36]. Compared to the WLM trial, however, the current trial included a higher proportion of African American women (51% vs. 32%), a shorter duration of initial treatment (16 vs. 20 weekly sessions), and a slightly different weight loss criterion (5% vs. 4 kg) [40].
Although the clustered campaigns may promote novelty and offer an alternative approach to a conventional fixed-interval schedule, the experimental treatment schedule is most accurately conceptualized as a modified, fixed-interval schedule. This schedule did not include unpredictable, variable contacts, and other schedules of contact may prove superior to the one examined here [13–15]. Also, the self-directed control condition does not provide a direct comparison of the clustered campaign to a conventional, fixed-interval schedule that is comparable in treatment intensity. Given the limited literature on differing contact schedules for extended care programs, this was designed as an initial test of a clustered campaign maintenance schedule isolated from the effects of other treatment components. Importantly, this initial test included a randomized design, which offers a more rigorous approach than a quasi-experimental or single-group study design. Thus, the current findings are a novel, methodologically-sound addition to the literature that offers a promising approach to promote weight loss maintenance that requires replication and further exploration. Furthermore, other behavioral and/or psychological changes that were not measured may have occurred during treatment and could potentially mediate or moderate the effects observed for weight loss. Finally, while the duration of extended care is consistent with other maintenance trials [4, 7, 9, 30, 42], it is unknown what would occur with the maintenance of lost weight beyond the 12-month extended care period.
Future research
This trial provides a promising first step in understanding the effects of an alternative schedule of contacts for extended care weight management programs. Future research directly comparing clustered campaign and fixed-interval schedules is needed to determine whether alternative extended care schedules minimize weight regain relative to conventional schedules of continued contact. Moreover, the examination of potential moderators and/or mediators of treatment effects are needed to understand why certain maintenance schedules may be advantageous. Alternative methods of delivering clustered campaign extended care treatment should be considered, including other schedules of contact and modalities of delivering treatment. The success with the clustered campaign approach for maintenance of weight loss in the current study raises the question of whether this approach may also be worthwhile for initial weight management treatment. Similarly, it may be useful to explore this approach for the maintenance of other behavioral changes prone to relapse that adhere to similar structured programs (e.g., smoking cessation).
Conclusions
In summary, these findings demonstrated that individuals who participated in an extended care intervention with a novel, clustered campaign delivery approach had better weight maintenance following an intensive lifestyle intervention than those who participated in a self-directed maintenance condition. Thus, extended care interventions for sustained weight loss may be efficaciously delivered via clustered campaign schedules or other alternative treatment schedules. Further research is needed to test these novel delivery methods against more conventional extended care delivery approaches to determine whether they have added weight maintenance or cost benefits.
Declarations
Acknowledgements
Not applicable.
Funding
This work was supported by K23DK081607 and T32DK062710 from the National Institute of Diabetes and Digestive and Kidney Diseases (NIDDK).
Availability of data and materials
The data can be made available by the authors upon request.
Authors' contributions
GRD led the conceptualization and implementation of the study and led the interpretation of findings and writing of the manuscript. MAG contributed to initial drafting of the manuscript and interpretation of findings. FT and DZ led statistical analyses. JA, MGP, and CEL contributed to the design, conduct, and evaluation of the intervention. All authors contributed to the drafting of the manuscript and interpretation of study findings. All authors read and approved the final manuscript.
Ethics approval and consent to participate
Approval for this study was obtained from the Institutional Review Board of the participating academic health center (protocol X111215003). Informed consent was obtained from all individual participants included in the study. All procedures performed in studies involving human participants were in accordance with the ethical standards of the institutional and/or national research committee and with the 1964 Helsinki declaration and its later amendments or comparable ethical standards. This trial is registered with clinicaltrials.gov (NCT02487121).
Consent for publication
Informed consent was obtained from all participants for publication of data included in this manuscript. Individual participant data, images, or video are not included in this manuscript.
Competing interests
The authors declare that they have no competing interests.
Publisher's Note
Springer Nature remains neutral with regard to jurisdictional claims in published maps and institutional affiliations.
Open AccessThis article is distributed under the terms of the Creative Commons Attribution 4.0 International License (http://creativecommons.org/licenses/by/4.0/), which permits unrestricted use, distribution, and reproduction in any medium, provided you give appropriate credit to the original author(s) and the source, provide a link to the Creative Commons license, and indicate if changes were made. The Creative Commons Public Domain Dedication waiver (http://creativecommons.org/publicdomain/zero/1.0/) applies to the data made available in this article, unless otherwise stated.
Authors' Affiliations
(1)
Division of Preventive Medicine, Department of Medicine, University of Alabama at Birmingham, Birmingham, USA
(2)
Department of Mathematical Sciences, Indiana University-Purdue University Indianapolis, Indianapolis, USA
(3)
Department of Epidemiology and Prevention, Wake Forest University School of Medicine, Winston Salem, USA
(4)
Department of Clinical and Health Psychology, University of Florida, Gainesville, USA