A community-wide campaign to promote physical activity in middle-aged and elderly people: a cluster randomized controlled trial
International Journal of Behavioral Nutrition and Physical Activity
2013
10:44
Received: 11 September 2012
Accepted: 29 March 2013
Published: 9 April 2013
Abstract
Background
We aimed to evaluate the effectiveness of a community-wide campaign (CWC) for promoting physical activity in middle-aged and elderly people.
Methods
A cluster randomized controlled trial (RCT) with a community as the unit of randomization was performed using a population-based random-sampled evaluation by self-administered questionnaires in the city of Unnan, Shimane Prefecture, Japan. The evaluation sample included 6000 residents aged 40 to 79 years. We randomly allocated nine communities to the intervention group and three to the control group. The intervention was a CWC from 2009 to 2010 to promote physical activity, and it comprised information, education, and support delivery. The primary outcome was a change in engaging in regular aerobic, flexibility, and/or muscle-strengthening activities evaluated at the individual level.
Results
In total, 4414 residents aged 40–79 years responded to a self-administered questionnaire (73.6% response rate). Awareness of the CWC was 79% in the intervention group. Awareness and knowledge were significantly different between the intervention and control groups, although there were no significant differences in belief and intention. The 1-year CWC did not significantly promote the recommended level of physical activity (adjusted odds ratio: 0.97; 95% confidence interval: 0.84–1.14).
Conclusions
This cluster RCT showed that the CWC did not promote physical activity in 1 year. Significant differences were observed in awareness and knowledge between intervention and control groups as short-term impacts of the campaign.
Keywords
WalkingMuscle stretching exercisesResistance trainingMusculoskeletal diseasesHealth communicationSocial marketing
Background
Engaging in regular physical activity (PA) reduces the risks of many chronic diseases [1–5]. However, physical inactivity remains a common public health problem in developed and developing countries [6, 7].
PA behaviors are affected by diverse factors at the individual, social, environmental, and policy level [8, 9]. Therefore, multilevel and intersectoral approaches seem to be the most successful PA promotion strategies [9, 10]. Recently, community-wide interventions involving various campaigns have received broad attention for promoting PA in a wide range of community populations. Such community-wide campaigns (CWC) typically (1) involve many community sectors; (2) include highly visible, broad-based, multi-component strategies; and, (3) may also address other cardiovascular disease risk factors [11, 12]. However, well-designed trials assessing the effectiveness of CWC for promoting PA have been lacking [13–22]. A recent review included only one cluster randomized controlled trial (RCT), which focused on adolescents, and concluded that there was a lack of appropriate studies which could show whether this approach is beneficial [22]. The risk of bias, including selection bias in non-randomized studies, in the existing literature might lead to a misunderstanding of effective population strategies. Therefore, it is desirable to conduct randomized studies to obtain more robust knowledge, and advance the body of public health policy and practices.
Focusing on the outcomes targeted by CWCs, there are relatively few studies on flexibility and muscle-strengthening activities compared with those on aerobic activities (e.g., walking) [12–21]. Flexibility and muscle-strengthening activities are generally recommended for older people, and specifically for people with musculoskeletal disorders, as a non-pharmacological treatment [23–27]. Musculoskeletal disorders are a major burden on both individuals and societies [28]. In Japan, musculoskeletal pain has been the most reported subjective symptom [29]. In addition, as arthritis is a potential barrier to PA [30], we cannot ignore the influence of these conditions when promoting PA, especially in older people.
Therefore, this study aimed to evaluate the effectiveness of a CWC for promoting not only aerobic PA, but also flexibility and muscle-strengthening activities in middle-aged and elderly people by conducting a cluster RCT. Our intention was to promote PA through a CWC delivered at the community level. To minimize contamination, the unit of randomization was the community. The hypothesis was that a CWC delivered at the community level would promote engagement in regular aerobic, flexibility, and/or muscle-strengthening activities in middle-aged and elderly people evaluated at the individual level.
Methods
The COMMUNICATE (COMMUNIty-wide CAmpaign To promote Exercise) study was a cluster randomized controlled, superiority trial, stratified by high, moderate, and low population density, with imbalanced randomization (three interventions; one control). It was conducted in the city of Unnan (population 45364, area 553.7 km2), a rural mountainous region in Shimane, Japan. To assess a community level intervention, it is preferable to randomly assign communities rather than individuals to study groups [31]. Full details of the trial protocol can be found in Additional file 1. This study was approved by the research ethics committee of the Physical Education and Medicine Research Center UNNAN.
Figure
1
is a flow diagram of the trial process. There are 32 communities within Unnan, with a median population and area of 1292 and 10.8 km
2
, respectively. The eligibility criterion for clusters was all communities in Unnan. The 32 clusters were divided into three groups by population density. Then, 12 clusters were randomly sampled, with stratification by blocking within population density category strata, and randomly allocated to three intervention clusters (i.e., a total of nine clusters) per control cluster (i.e., a total of three clusters). Additionally each cluster in the intervention group was randomly allocated to an aerobic activity group (Group A), a flexibility and muscle-strengthening activities group (Group FM), and an aerobic, flexibility, and muscle-strengthening activities group (Group AFM), each consisting of three clusters. This factorial designed division was for the purpose of subgroup analyses.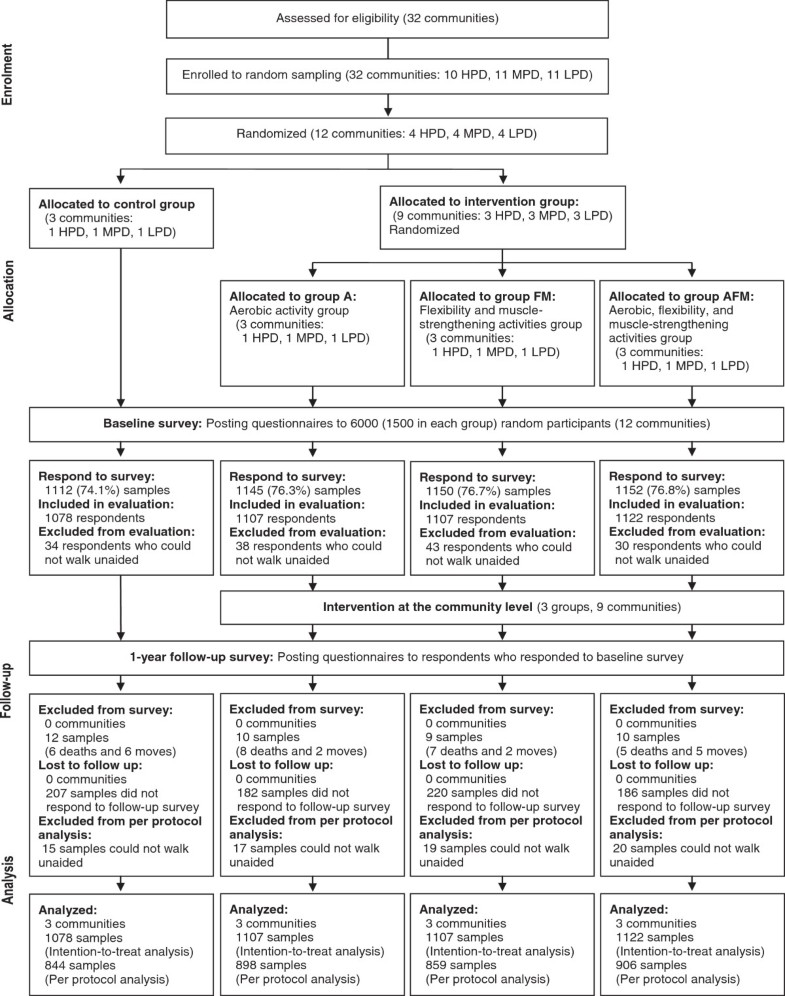 Randomization of the clusters was performed by a clerical staff member of Unnan City Hall, blinded to the name and identity of the clusters, using a computer-generated list of random numbers. Another staff member had a list of all cluster names and the relevant numbers and assigned the clusters. Neither staff member was involved in the remainder of this study. We did not conduct any other cluster selection process to minimize the risk of contamination (e.g., geographical distance between individual clusters).
Discussion
The present study showed that the 1-year CWC did not promote PA in middle-aged and elderly people. To our knowledge, this is the first study that examined the effectiveness of a CWC for promoting PA in middle-aged and elderly people using a randomized design.
Our results regarding the hypothesized logic model suggest that changes in awareness and knowledge could be observed as short-term impacts of the CWC. Baker and his colleagues' model also proposed that awareness and knowledge change as short-term impacts, and changes in belief, intention, and PA level are medium-term results in community-wide interventions [22]. It was unknown how long a CWC should be conducted to promote PA. The most frequent duration of interventions in the 25 studies in a recent Cochrane Systematic Review article for community-wide interventions was 1 year (six studies) and the median duration was 3 years with a range of 1–7 years [22]. Our results suggest that 1 year should be considered short-term and that more time is needed for CWCs to attain behavior (PA) change in middle-aged and elderly people.
We used cluster-specific mean values, which might increase the risk of regression to the mean. Reduced variance within each cluster increases the statistical power (increased type 1 error). However, our primary and secondary analyses indicated that the differences between intervention and control group were insignificant even in this situation. Thus, our conclusion about the insignificant difference is considered to be valid.
Significant associations among variables in our hypothesized logic model suggest that this model is effective for process evaluation of a CWC. Respondents who were aware of the campaign were more likely to engage in the recommended level of PA after the campaign than those who were not aware of the campaign. Awareness of peer support and advice from physicians was low (37.7% and 25.5%, respectively). Additional emphasis on peer support and advice from physicians and, if possible, some environmental changes might be effective in a future CWC [8, 12, 53]. Some voluntary activities (e.g., monthly walking events in two communities in Group A, and stretching exercises in a cultural, arts and recreational group in one community in Group AFM) started after the 1-year campaign finished. Therefore, intervention effects could be observed as late behavior change. In response to the results of the current study, campaign improvement and maintenance had been implemented and a 3-year follow-up evaluation planned. The CWC strategy has to focus on changing belief [54], intention, and the actual behavior of the population in this next phase.
We assessed the implementation process by using the output data. Most parts of the three components of the CWC were implemented in all intervention communities, although some components were weakly or not implemented in some communities. An effort to deliver intervention components equally at the same level of dose across all communities is an essential part of this kind of community intervention trial. In addition, in order to assess the external validity (generalizability) of this public health intervention, further analysis using the RE-AIM framework will also be of value [55]. For example, the data on the (quasi-)population coverage rate for education delivery, as indicated in this study, will be valuable data for the "Reach" component of RE-AIM and for understanding how much intervention is necessary to achieve population-level behavioral change.
We did not observe any significant changes in pain outcomes. This is not unexpected, as pain improvement generally occurs after an increase in PA level. No significant change in pain might also indicate that no harm was observed.
In this study, no differences were observed when comparing Groups A, FM, and AFM with the control group. Walking is the most common PA of adults and the elderly [56, 57]. Flexibility and muscle-strengthening activities can easily be performed at home without special equipment. However, a lack of specific knowledge of how to perform such activities may be a barrier to participation [58]. In Group AFM, the amount of information delivered was greater than that for Group A and FM, thus the burden felt by the former might be greater than by the latter. However, if the CWC could succeed in motivating people to perform all these PAs, then the achieved health benefit would be the greatest [1, 23]. In order to develop strategies to disseminate PA recommendations, further studies are necessary to examine whether information about a variety of PAs (e.g., aerobic, flexibility, and muscle-strengthening activities together) can be successfully delivered in community-wide interventions and whether differences exist by type of PA.
This study had some limitations. First, a self-administered questionnaire, which might be subject to recall bias, was used for outcome measurement. In smaller-scale clinical trials, objective measures (e.g., devices to assess movement directly) can be used as indices of change. However, in broader-reach trials, objective measures are often prohibitively expensive, burdensome to participants and logistically difficult. Thus, in broad-reach trials, self-report measures frequently must be relied on. Brief self-report measures have been suggested as useful for their comparability of population PA estimates and have low respondent burden [59]. In addition, little is known to date about objective methods to assess daily flexibility and muscle-strengthening activities in population-wide studies. A strength of this study is that we used questionnaires, whose reliability was assessed, to measure these activities. Although the term "usually" could be interpreted in a variety of ways by different participants, the test-retest reliability of the muscle-strengthening activity was moderate and acceptable.
Second, since the awareness of the CWC was extraordinarily high in the control group, it is possible that contamination of the intervention occurred. The proximity of study communities is a possible explanation. Of all the intervention components, the exposure to campaign posters and word-of-mouth from an acquaintance and friends were possible sources of contamination, although efforts to avoid contamination were made when delivering visual and audio information and educational activities. The questionnaire might also have elicited information about general exposure to PA information, rather than just exposure to the CWC. In order to confirm this, we conducted a telephone survey in randomly selected respondents (n = 60) of the 3-year evaluation (the succeeding survey of this study) in December 2012. Results indicated that only 48% (0% for audio information delivery, 7% for mass encouragement) of the respondents who answered that they were aware of the visual information delivery of the campaign in the questionnaire correctly remembered the specific features of the campaign in the control group, compared with 85% (48% for audio information delivery, 62% for mass encouragement) in the intervention group (Chi square test: p = 0.012 for visual information, p < .01 for audio information, p < .01 for mass encouragement). Most of the respondents in the control group tended to answer "yes" to the awareness question because they thought of exposures to PA-related information (e.g., promotion of exercise classes) irrelevant to the campaign. Considering the low percentages (0% and 7%) of the questions answered correctly, contamination of audio broadcast and mass encouragement did not seem to occur broadly whereas visual information delivery (e.g., posters) could be seen even by the residents in the control group. Although the absolute proportion of awareness should be interpreted with caution, it is still clear that the CWC did reach many residents in the intervention communities through the various interventions (e.g., about 62% of the population by education delivery).
Third, single items and "yes"/"no" responses were used for the logic model measures due to space limitation in the questionnaire. They could not capture the depth of knowledge, strength of belief, and/or intention. The items for knowledge and belief also seem to be leading, and it is possible that these items led to response bias. A questionnaire space limitation problem often occurs in large scale community intervention studies. A high volume questionnaire risks lowering the response rate [60]. Short and reliable psychometric items are important to evaluate the psychological factors. In addition, as these analyses on the logic model measures were cross-sectional, we cannot make conclusions about causality.
Regarding the research design of the health promotion studies, although there are some criticisms of RCTs [61], Rosen et al. argued that many of these objections can be eliminated through a better grasp of the basics of RCTs and their proper implementation, and with a better understanding of research ethics in general [62]. A cluster RCT is considered as the preferable study design for this type of community intervention study and it is definitely an important strength of our study. The high response rate and detection of harm from the intervention using a pain questionnaire, which is not usually considered in PA interventions, are also strengths of this study.
Conclusions
The results of this cluster RCT indicate that the CWC in Unnan, Japan did not promote PA in middle-aged and elderly people in 1 year. Significant differences were observed in awareness and knowledge between intervention and control groups as short-term impacts of the campaign. Our study, with its robust design and excellent community-wide coverage provides valuable information about the time required for a CWC to attain actual behavioral change. Furthermore, the logic model is useful for public health professionals involved in developing, implementing, and evaluating CWCs to promote PA.
Authors' information
At the time of the study, MK was also with the Physical Education and Medicine Research Center UNNAN, Unnan, Shimane, Japan.
Abbreviations
PA:

Physical activity
CWC:

Community-wide campaign
RCT:

Randomized controlled trial
Group A:

Aerobic activity group
Group FM:

Flexibility and muscle-strengthening activities group
Group AFM:

Aerobic, flexibility, and muscle-strengthening activities group
VAS:

Visual analog scale
BMI:

Body mass index
GLMM:

Generalized linear mixed model
OR:

Odds ratio
CI:

Confidence interval.
Declarations
Acknowledgements
This study was supported by a Grant-in-aid from the Ministry of Health, Labour and Welfare of Japan (Comprehensive Research on Prevention of Cardiovascular Diseases and Other Lifestyle Related Diseases: H20-Junkankitou-Ippan-001). The funding body did not have a role in study design, intervention, data collection and analysis, decision to publish, or preparation of the manuscript.
We deeply appreciate the cooperation of the staff members and all other people involved in this study. We are grateful for the generous assistance provided by Yoshiteru Mutoh, Sang-Jun Park, Hyuntae Park, Koichiro Oka, Yoshinori Kitabatake, Ryosuke Shigematsu, Yoshio Nakata, Hiroyasu Okuizumi, Yuzuru Matsui, and Yuji Uchio.
Authors' Affiliations
(1)
Department of Environmental and Preventive Medicine, Shimane University School of Medicine, Izumo, Japan
(2)
Japan Society for the Promotion of Science, Tokyo, Japan
(3)
Physical Education and Medicine Research Center UNNAN, Unnan, Japan
(4)
Department of Preventive Medicine and Public Health, Tokyo Medical University, Tokyo, Japan
(5)
Department of Public Health, Jichi Medical School, Shimotsuke, Japan
(6)
Data Science Research Institute, Minato-ku, Japan
(7)
Physical Education and Medicine Research Foundation, Tomi, Japan
(8)
Graduate School of Sport Sciences, Waseda University, Tokorozawa, Japan
(9)
Faculty of Regional Environment Science, Tokyo University of Agriculture, Tokyo, Japan
Copyright
© Kamada et al.; licensee BioMed Central Ltd. 2013
This article is published under license to BioMed Central Ltd. This is an Open Access article distributed under the terms of the Creative Commons Attribution License (http://creativecommons.org/licenses/by/2.0), which permits unrestricted use, distribution, and reproduction in any medium, provided the original work is properly cited.