Physical activity among South Asian women: a systematic, mixed-methods review
International Journal of Behavioral Nutrition and Physical Activity
2012
9:150
Received: 25 April 2012
Accepted: 6 December 2012
Published: 20 December 2012
Abstract
Introduction
The objective of this systematic mixed-methods review is to assess what is currently known about the levels of physical activity (PA) and sedentary time (ST) and to contextualize these behaviors among South Asian women with an immigrant background.
Methods
A systematic search of the literature was conducted using combinations of the key words PA, ST, South Asian, and immigrant. A mixed-methods approach was used to analyze and synthesize all evidence, both quantitative and qualitative. Twenty-six quantitative and twelve qualitative studies were identified as meeting the inclusion criteria.
Results
Studies quantifying PA and ST among South Asian women showed low levels of PA compared with South Asian men and with white European comparison populations. However making valid comparisons between studies was challenging due to a lack of standardized PA measurement. The majority of studies indicated that South Asian women did not meet recommended amounts of PA for health benefits. Few studies assessed ST. Themes emerging from qualitative studies included cultural and structural barriers to PA, faith and education as facilitators, and a lack of understanding of the recommended amounts of PA and its benefits among South Asian women.
Conclusions
Quantitative and qualitative evidence indicate that South Asian women do not perform the recommended level of PA for health benefits. Both types of studies suffer from limitations due to methods of data collection. More research should be dedicated to standardizing objective PA measurement and to understanding how to utilize the resources of the individuals and communities to increase PA levels and overall health of South Asian women.
Keywords
Health inequalitiesSedentary timeSelf-reported physical activity
Background
Low levels of physical activity (PA) (defined as movement of the body requiring energy expenditure) and increased sedentary time (ST) (no energy expenditure above that required at rest) are major independent risk factors in the development of cardiovascular disease, and are recognized as key contributors to other chronic conditions such as type 2 diabetes and obesity [1]. As such, PA and ST are potentially modifiable health behaviors that can be changed to reduce risks for morbidity and premature mortality resulting from various chronic diseases [2–4]. It has been shown that those who are physically active can reduce their risk of developing cardiovascular disease by up to 50% [2]. The World Health Organization, US Department of Health and Human Services and the UK Department of Health agree that 150 minutes of moderate intensity PA or 75 minutes of vigorous activity per week are recommended to achieve health benefits [5–7].
South Asian women (SA) are disproportionately affected by chronic diseases [2, 8, 9] and large cross-national surveys of many western nations such as the UK, Australia and the US have consistently reported that SAs report lower levels of PA than their white counterparts [10, 11]. Cardiovascular disease (CVD), which includes heart attack and stroke, accounts for 16.7 million deaths globally each year [12]. CVD is the leading cause of death in the UK and nearly half of all deaths in Europe are caused by CVD [12]. The UK has one of the highest rates of CVD in the world, with more than 190,000 deaths in 2008 [12]. In the UK 33% of all mortality in South Asian women and 25% in men 2008 was caused by cardiovascular disease [12]. As insufficient PA is recognized as a significant, independent risk factor for CVD and other chronic diseases, it is important to gain a better understanding of the PA levels of SA and the factors influencing PA among this population to help inform the development and delivery of culturally appropriate interventions and policy [13].
Researchers have recently focused on quantifying and contextualizing PA and ST among groups such as SAs living in industrialized countries who are at the greatest risk for cardiovascular and other chronic diseases such as type 2 diabetes and hypercholesterolemia when compared to the general populations of those countries [14]. The objective of this systematic mixed-methods review is to assess what is currently known about levels of PA and ST in SA. Research questions are: 1) What is known about the volume, intensity, duration and type of PA/ST that SAs engage in, 2) What is known about the context in which these behaviors occur in SA, and 3) What is the quality of the evidence on PA/ST in SAs?
Methods
After careful consideration of the methods that would be most appropriate for answering the research questions, a combination of the EPPI-Centre mixed-methods systematic review and an integrative review were used. This review uses the EPPI-Centre methods for systematically searching the literature, rigorously assessing the quality of studies, and synthesizing quantitative and qualitative studies into one report. As in the integrative method, many types of studies were considered for inclusion in order to meet the objective of the review [15]. These included randomized and non-randomized controlled trials, observational studies and qualitative studies. The adaptation of the mixed-methods review and integrative review allowed for a systematized and rigorous review while including the appropriate studies to fully answer the research questions.
Search strategy
A search was performed in online databases (MEDLINE, The Cochrane Library, EMBASE, PsychInfo, CINAHL, AnthroSource and Sociological Abstracts from 1980 to July 2012), grey literature, hand searches of journals over the previous twelve months (MSSE, Journal of Physical Activity & Health, Journal of Aging and Physical Activity), and reference lists of articles to identify studies. Search terms included combinations of PA, ST, physical exercise, physical fitness, exercise, sport, physical training, physical training, recreation activity, MVPA, LTPA, leisure activities, physical inactivity, sedentary behavior and South Asian/immigrant. Inclusion criteria were: Randomized and non-randomized controlled studies, observational and qualitative studies; studies that include data on PA and/ or ST; studies on SA; studies published from 1980 on to obtain the most current data; studies with data on adult women aged 18 and older; studies published in English. Exclusion criteria included: Studies without adult data and studies focusing on migrant groups instead of permanent immigrants, and studies on children.
Quality of studies was assessed using validated checklists developed from the Critical Appraisal Skills Programme (CASP) [16, 17]. The checklist for quantitative studies was used to assess quality of study design including methods selection, identification of biases, appropriate use of statistical methods, and clarity of reporting [16]. Studies were accepted for inclusion if they addressed each of these through justification of choices made in each quality category. The checklist for qualitative studies assessed strength of studies for inclusion, ranking studies on a continuum from weak to strong [17]. Consideration was given to rigor (thorough and appropriate key research methods), credibility (findings well presented and meaningful), and relevance (how useful are the findings) [17]. Qualitative studies were acceptable for inclusion if they were categorized as at least of moderate quality. Study eligibility was confirmed by two researchers and quality assessment and data extraction were performed by the principal investigator (WSB) and confirmed by a senior researcher (JLT).
Findings from quantitative studies are described numerically and textually to provide a summary of evidence on PA and ST performed by SA since heterogeneity of methods and measures of PA and ST precludes the use of meta-analysis. Qualitative data was synthesized and analysed thematically using NVIVO in three stages: 1) line-by-line coding of primary studies; 2) organising codes into themes; and 3) development of analytical themes [18]. The final integrated synthesis consists of narrative commentary, combining the results of quantitative and qualitative syntheses.
Results
Figure
1
shows the identification and inclusion of studies for the final synthesis. A total of 8,123 studies were initially retrieved and seventy-three studies were identified by title and abstract for more detailed evaluation. Thirty-eight studies (quantitative n = 26, qualitative n = 12) were included in the final synthesis and analysis.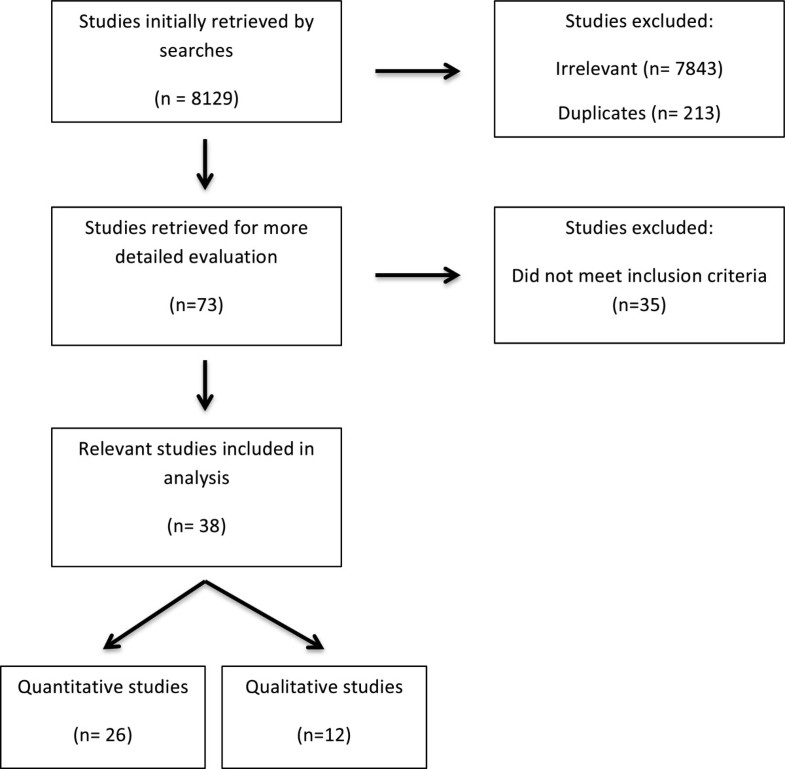 Conclusions
This review has identified the quantitative and qualitative studies on PA among SA. All quantitative studies showed a trend toward low activity levels in this group, though outcome measures varied widely. Although findings were limited, they suggest that barriers to PA may be overcome by working within cultural norms and to provide more education on the safety and benefit of PA. The evidence base for these conclusions is limited and it is recommended that more research be done in this area to close gaps in knowledge and provide the information needed to develop and disseminate culturally appropriate interventions that increase PA and reduce ST in this population.
Declarations
Acknowledgements
We thank Ms. Julianne van der Berg for her assistance with the study selection process.
No funding was received.
Authors' Affiliations
(1)
School of Sport and Exercise Sciences, University of Birmingham, Birmingham, UK
Copyright
© Babakus and Thompson.; licensee BioMed Central Ltd. 2012
This article is published under license to BioMed Central Ltd. This is an Open Access article distributed under the terms of the Creative Commons Attribution License (http://creativecommons.org/licenses/by/2.0), which permits unrestricted use, distribution, and reproduction in any medium, provided the original work is properly cited.