Factors related to leader implementation of a nationally disseminated community-based exercise program: a cross-sectional study
International Journal of Behavioral Nutrition and Physical Activity
2008
5:62
Received: 19 February 2008
Accepted: 04 December 2008
Published: 04 December 2008
Abstract
Background
The benefits of community-based health programs are widely recognized. However, research examining factors related to community leaders' characteristics and roles in implementation is limited.
Methods
The purpose of this cross-sectional study was to use a social ecological framework of variables to explore and describe the relationships between socioeconomic, personal/behavioral, programmatic, leadership, and community-level social and demographic characteristics as they relate to the implementation of an evidence-based strength training program by community leaders. Eight-hundred fifty-four trained program leaders in 43 states were invited to participate in either an online or mail survey. Corresponding community-level characteristics were also collected. Programmatic details were obtained from those who implemented. Four-hundred eighty-seven program leaders responded to the survey (response rate = 57%), 78% online and 22% by mail.
Results
Of the 487 respondents, 270 implemented the program (55%). One or more factors from each category – professional, socioeconomic, personal/behavioral, and leadership characteristics – were significantly different between implementers and non-implementers, determined by chi square or student's t-tests as appropriate. Implementers reported higher levels of strength training participation, current and lifetime physical activity, perceived support, and leadership competence (all p < 0.05). Logistic regression analysis revealed a positive association between implementation and fitness credentials/certification (p = 0.003), program-specific self-efficacy (p = 0.002), and support-focused leadership (p = 0.006), and a negative association between implementation and educational attainment (p = 0.002).
Conclusion
Among this sample of trained leaders, several factors within the professional, socioeconomic, personal/behavioral, and leadership categories were related to whether they implemented a community-based exercise program. It may benefit future community-based physical activity program disseminations to consider these factors when selecting and training leaders.
Keywords
Strength TrainingProgram ImplementationLeadership StyleProgram LeaderLeadership Characteristic
Background
An essential component of community-based physical activity programs are the leaders who implement them [1–4]. Community program leaders serve many roles in implementation – from soliciting participation and teaching classes to providing motivation, inspiration, and feedback to participants [3, 5, 6]. Leaders may also carry out a range of administrative and logistical tasks.
Leaders often possess a wide variety of backgrounds and skills, which inevitably influence the programs they implement and the participants who receive them. In community-based public health program evaluations, there are varying types and degrees of success (related to implementation, participation, biologic/health-related outcomes, and beyond); it is likely that the characteristics of the leaders and communities contribute to this variability – independently and collectively [7–12].
Currently, there is a gap within the public health literature by which a comprehensive model could be developed and utilized to identify, select, and strategically train community-based leaders to maximize their skills and capacity. General literature on leadership, however, lends insight to factors and characteristics worthy of exploration. For example, it has been proposed that leadership is influenced by the leader's personal characteristics. Research suggests that such characteristics can be defined on a variety of levels, such as age, education level, or in a capacity that is more descriptive of life experiences and personal habits, such as eating habits or exercise practices. In this context, a study may seek to determine which factor is important to program implementation: formal training or prior program implementation experience? Perhaps neither; perhaps both. Also, does it matter whether the leaders themselves model the behavior they are trying to encourage? Personal commitment and/or experience may affect the execution of implementation [5, 13–20].
Other theories on leadership suggest that while personal characteristics are important, situational factors such as support, the organization, or environment may interact with individual factors and modify effectiveness accordingly [7, 13, 15, 17, 21–23]. These theories imply that even if all essential components are in place at the individual (leader) level, the context or situational characteristics play an inevitably crucial role. An environment where appropriate resources are allocated toward development and where learning is rewarded is also essential to the development of an effective leader. This concept may be thought of as quality of institutional or organizational leadership [14, 20, 23–26].
What is commonly agreed upon in this area is that appropriate leadership is important to bring about change within a group, and that greater levels of change require leadership that is more dynamic. It has been suggested that the most effective leaders are those who rely on not one but multiple leadership styles and those who are able to adapt depending on the situation [23, 26].
Considered succinctly, optimizing leadership is likely a function of both personal and environmental factors that facilitate program implementation and sustainability through separate and collective action [7, 13, 15, 17, 21]. Hence, the characteristics of the target group, nature of the work, type of group structure, and nature of the external environment may all influence what could be considered "successful" leadership [13, 17, 19, 27]. Therefore, examining and understanding the effects of leadership, individual, and situational characteristics may confer enhanced success in implementing and sustaining a variety of community programs [3, 15, 18, 24, 28–31].
There is emerging popularity and demand for evidence-based health promotion programs. Despite the recognized importance of community program leadership and an extensive body of literature related to the leadership for the business sector [14, 16, 22, 32], research in this area as it relates to public health is limited, in both quantity and depth. The multilevel influence embedded within community-based programs implementation and dissemination efforts invite the social ecological model as a viable and practical framework for examination [33, 34]. The findings presented here aim to expand understanding of the role of leadership in community-based program implementation, and to generate hypotheses for future studies.
Study objective
The purpose of this study was to explore and describe the relationships between socioeconomic, personal/behavioral, programmatic, leadership, and community-level social and demographic characteristics as they relate to the implementation of an evidence-based strength training program by community leaders. This was a cross-sectional design that utilized a convenience sample of leaders from the StrongWomen Program (SWP) – a nationally disseminated community strength training program targeted to midlife and older women [
6
]. The primary hypothesis stated that implementation of the SWP would be positively associated with a community leader's previous strength training experience, support, and leadership characteristics compared to leaders who did not implement the program. The contextual framework for the dissemination of the SWP is shown in Figure
1
; an extensive review of the national dissemination of the SWP – including the training workshop, curriculum, and programmatic details – have been previously published [
6
]. The social-ecological framework of variables for this research is shown in Figure
2
.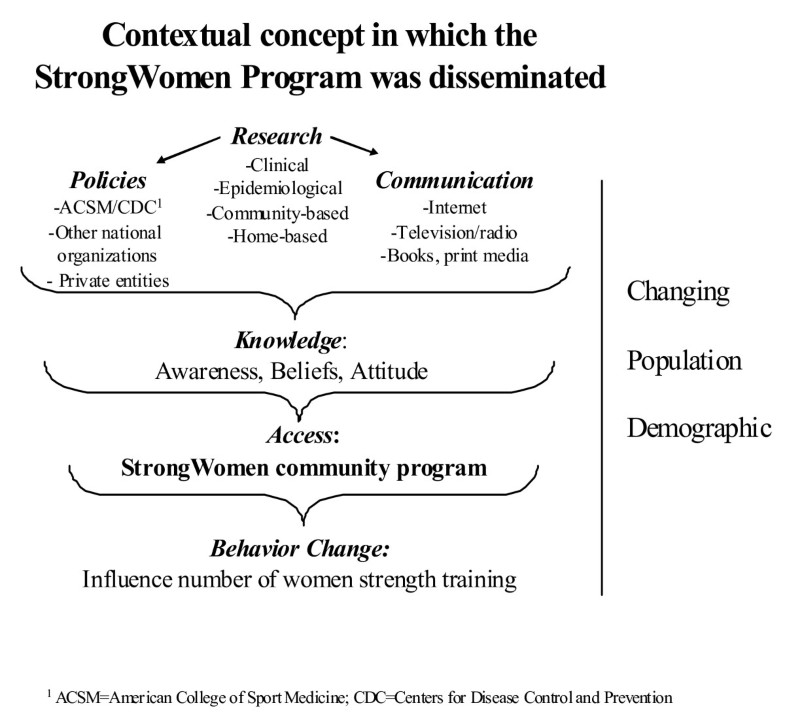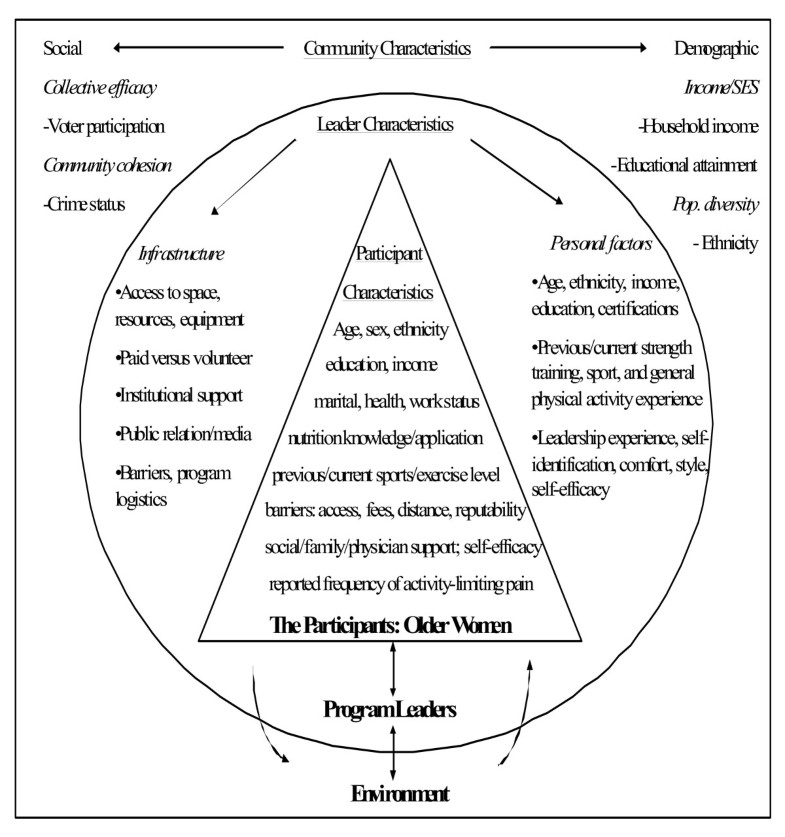 Methods
The SWP was designed as a community-based program to be implemented as twice weekly group strength training classes lasting eight to twelve weeks in community settings. At the time of survey administration (June 2006), thirty-nine day-long workshops had been conducted from May 2003–June 2006 – training 854 community leaders from forty-three states to lead the SWP. Program leaders are most commonly from nonprofit organizations such as the USDA Cooperative State Research, Extension, and Education Service, hospital-based wellness centers, and community/recreation centers [6]. Contact information for trained leaders is tracked using a detailed database that includes phone, email, address, and other professional information.
Discussion
The mission of public health is to prevent disease and promote health in the greater population through the ongoing collection of health-related data; providing sound health information, resources, and recommendations; and supporting the implementation and dissemination of public health initiatives and programming. While we understand the importance of physical activity participation and have data to support the feasibility and benefits of community-based programming [6, 12, 29, 45–52], there is limited evidence related to optimizing implementation rates by leaders. This study sought to describe the characteristics of program leaders from a nationally disseminated program, and to identify and understand factors that help community-based leaders apply what they learn through curricula and trainings to successfully implement programs.
Of approximately forty distinct factors examined – including a range of socioeconomic, professional, personal/behavioral, leadership, and community variables – these data revealed that fitness credentials, support-focused leadership style, and greater levels of program-related self-efficacy were positively associated with program implementation, while higher levels of educational attainment were negatively associated with implementation in a logistic regression analysis. Additionally, in chi square group-level comparisons, physical activity level, perceived support, comfort leading groups, and leader self-identification were higher among implementers compared to non-implementers.
The social ecological model provided a valuable framework to categorize variables related to leader implementation. These findings demonstrated that both individual and interpersonal levels of influence were important. Fitness credentials/certification is an individual leadership characteristic specific to the implementation of this program. For example, leaders in this sample have a variety of professional expertise – from physical and occupation therapy to nursing, dietetics, and chiropractics [6]. In the SWP, fitness credentials are relevant to the program, yet they may not be for other health-promotion/community-based programs. However, it may be that, in general, program-specific training or experience plays an important role in leader confidence as well as competence around the planning, organization, and administration, and/or in execution of the implementing the program and sustaining it.
The self-efficacy score was derived from three questions in which leaders rated their confidence to overcome social, logistical, and physical challenges related to program implementation. Program-related self-efficacy was significantly higher among implementers, which is consistent with previous findings [16, 31, 53], although scores were quite high among non-implementers as well. Prospective studies would help clarify whether the act of implementation itself increased implementers' self-efficacy scores.
The leadership assessment was asked separately from programmatic questions, and this category of questions was asked in a general context. Respondents were asked to identify potential leadership strengths and weaknesses of their own leadership characteristics in terms of organization, communications, conflict resolution, and providing support, which are commonly examined factors in determining leadership style [17, 22, 27, 40]. In this study, individuals whose leadership style focused on providing support were positively associated with implementation in the logistic regression analysis, while none of the other three categories of leadership were association with implementation. As leaders trained in a community-based health program, support-focused leadership style was a likely characteristic [31]. Future studies might examine similar categories among implementers of other health programs to determine if support-focused leadership remains an important factor. If so, it would be beneficial to include strategies for improving support-focused leadership during trainings, and to consider this leadership characteristic in selection when necessary.
In this study, educational attainment was inversely associated with program implementation. This was an interesting finding and counterintuitive to other findings [3]. However, this is a highly educated cohort, with greater than 82% of individuals having a bachelors degree or higher. In some cases, more than one individual from the same organization was trained. It could be that those in the masters or higher education level category were at the director or administrator level in the organization and therefore their job responsibilities were to oversee programs but not to actually implement them. While not "implementers" themselves, these individuals may have provided mentorship and resource support to leaders who did implement the program, thus acting as critical program advocates who played an essential role in the pathway to implementation. Qualitative data collected in a related study may provide clarification in this area (publication forthcoming).
The primary limitation of this study is the convenience sample and cross-sectional design. This design and sampling structure dictate that all findings are associations in which causality cannot be inferred or implied, and that results cannot be extrapolated to other populations or programs. In future survey research of a similar nature, it would be optimal to administer the survey prior to and following a potential implementation timeframe. Specifically with regard to the sample: they were predominantly women who were mostly white and of relatively high socioeconomic status (SES). Despite this, there is a range within SES. Additionally, the national representation of leaders with varying personal and educational degrees is beneficial for understanding common factors across professions, geographical regions, and urban/rural locations. An additional limitation of this study is response bias. Response bias is a consideration for survey research, although the response rate was 57%. It is helpful that response rate does not appear biased by implementation, as it is similar among implementers and non-implementers.
Although these data provide valuable insights into initial program implementation, there are a number of questions related to program adoption and sustained delivery (i.e. utilization of the RE-AIM Framework) that would provide a fruitful area of further investigation [54, 55]. The strengths of these data are that multiple factors from a broad range of categories were examined in the context of a nationally disseminated community-based exercise program. The data offer a comprehensive analysis at the leader level, rather than at the participant outcome-related level, which is perhaps where participant exposure and program success begins.
Conclusion
Studies on other social change issues have identified a number of factors that are associated with sustained change. These include policy changes, strategic collaborations, and effective leadership at the community level. Without leadership to initiate, motivate, and sustain physical activity programs, the causal pathway to behavior change among community members is interrupted, minimizing the efficacy of programs and reducing the likelihood of community and individual change [4, 32, 56, 57].
Implementation is an important step to increasing access to community programs, and ultimately, to increasing participation. Thus, optimizing implementation rates through leader recruitment and training are viable strategies to achieve that goal. These findings may also help administrators to improve criteria for leader selection, as good leaders are difficult to recruit and maintain.
This study's theoretical model offers a contextual framework of factors related to leader implementation, and contributes knowledge to advance research related to future community-based programs. Utilizing lessons learned from this study, future research – particularly prospective studies – examining a similar social ecological framework that includes personal/behavioral, socioeconomic, professional, leadership, and community factors in other programs and in other populations are clearly warranted. Studies including men and individuals with greater socioeconomic and racial diversity (e.g. low income and non-white populations) would be beneficial to the literature and for applications in a variety of public health programs and settings.
Declarations
Acknowledgements
The authors wish to acknowledge the Charles H. Farnsworth Trust, John Hancock Financial Services, Inc., Stonyfield Farm, Inc., the Australian Barbell Company, and the National Aging Blueprint for their financial support of this work. We would also like to acknowledge Francis Otting and Mary Kennedy for their assistance with the StrongWomen Program. We are grateful to the StrongWomen Program ambassadors, leaders, and participants for their time and effort.
Authors' Affiliations
(1)
John Hancock Center for Physical Activity and Nutrition, Tufts University, Boston, USA
(2)
Friedman School of Nutrition Science and Policy, Tufts University, Boston, USA
(3)
Jonathan M. Tisch College of Citizenship and Public Service, Tufts University, Medford, USA
(4)
Department of Public Health and Family Medicine, School of Medicine, Tufts University, Boston, USA
Copyright
© Seguin et al; licensee BioMed Central Ltd. 2008
This article is published under license to BioMed Central Ltd. This is an Open Access article distributed under the terms of the Creative Commons Attribution License (http://creativecommons.org/licenses/by/2.0), which permits unrestricted use, distribution, and reproduction in any medium, provided the original work is properly cited.